Ripple prices up 1.3 percent
Volumes surge as xRapid benefits flow
Bitstamp, Bitso, and Coins.Ph XRP related volumes are surging. As a results, it could support Ripple (XRP) prices as xRapid is now commercially available. Now that prices are steady in a bullish arrangement, it is likely that prices will break higher towards 40 cents as our trade conditions come to live.
Ripple Price Analysis
Fundamentals
We are in the early stages of a remittance revolution. Banks changing their time-tested systems in response to new technology seldom happen. They need evidence of efficiency, and Ripple Inc is fronting a solution that promises to change status quo and change the lives of the unbanked and those who pay intermediation fees cutting deep into their earnings.
Good news is more and more banks are reaping benefits of leveraging xCurrent or xRapid. The latest to join the fray was Federal Bank, the sixth bank from India to upgrade and settle on Ripple solutions. We are yet to determine which of the three options they prefer but should they choose xRapid then XRP prices could increase in response.
Some quick stats on Bitstamp -> https://t.co/8ifOy81Qdy over the past week or so. Noticeable jump in transfer frequency and average size pic.twitter.com/t0Jz92uXLc

— BehindtheLedger (@behindtheledger) March 29, 2019
Already, XRP prices are inching higher, reversing from current lows now that xRapid as a liquidity provider is commercially available. Keen XRP enthusiasts discovered a spike in transaction levels between BitSo, Bitstamp, and Coins.Ph, two of Ripple Inc recommended exchanges. Bitso facilitates transfers between the US and Mexico while Coins. Ph opens up the US—Philippines corridor with Bittrex as well as BitStamp facilitating USD conversion via xRapid.
Bitso's xrp/mxn pair, which was #150 on Coinmarketcap's volume ranking two days ago, has jumped up to #84 pic.twitter.com/8w3XZwM0mu

— BehindtheLedger (@behindtheledger) March 29, 2019
Candlestick Arrangements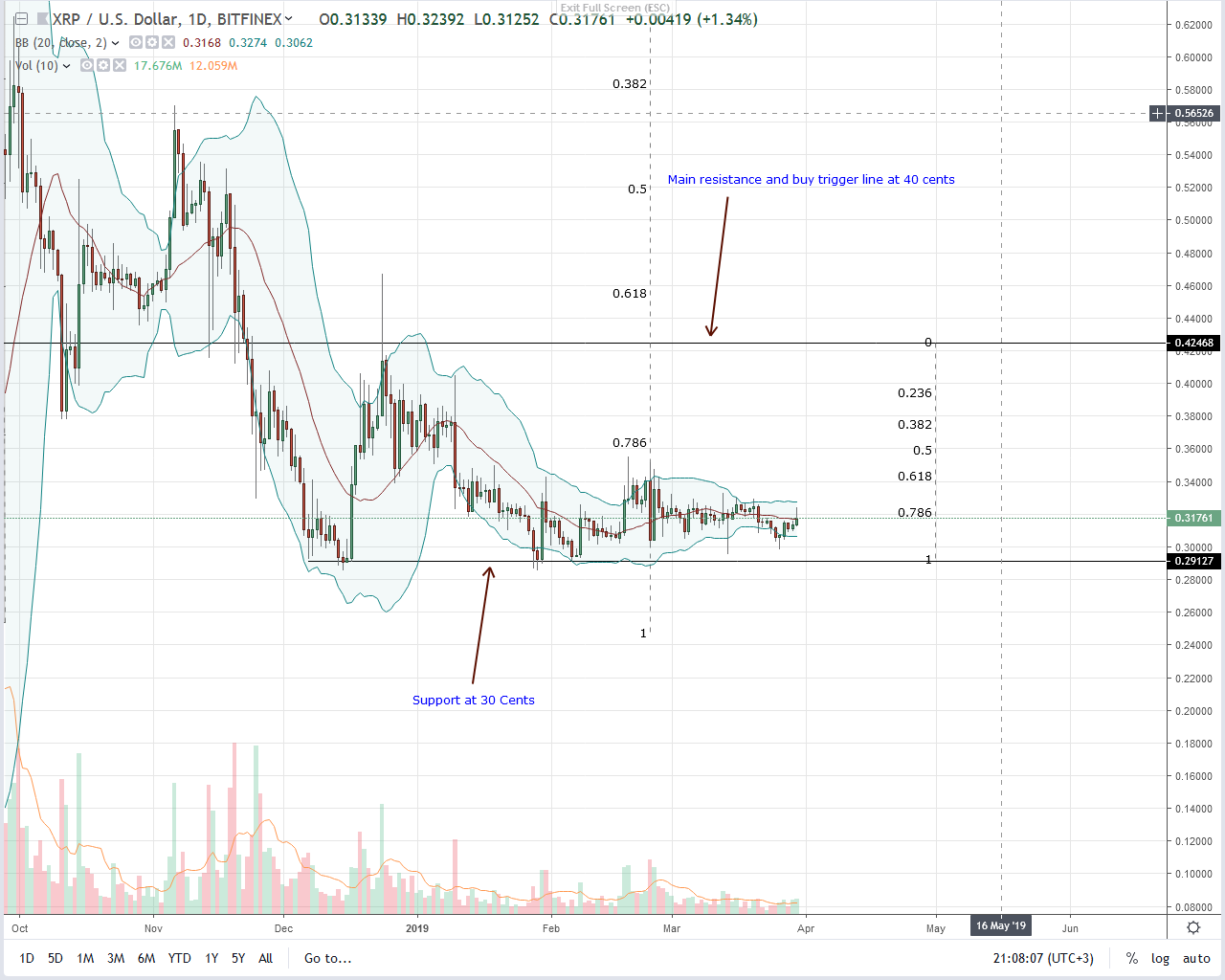 At the time of press, XRP is up 1.5 percent from yesterday's close, inching higher as prices correct Mar 26 under-valuation. All in all, what is apparent is that Ripple (XRP) bulls are once again finding support from Q1 2019 lows and could rally from Jan 30 lows more so if bulls build enough momentum closing above our minor resistance line at 34 cents.
Encouragingly, volumes are increasing as prices expand meaning there is a likelihood of this BB squeeze breaking above 34 cents as bulls of Sep 2018 flow cementing our overall bullish stance.
Complementing this is the fact that prices are trading within Jan 30 high-lows which from an effort versus results perspective is supportive of our projection.
Technical Indicator
Like we mentioned above, bulls are firm, and participation is picking up as prices bounce off from 30 cents, the first level of support. As aforementioned, bulls are technically in control if we consider the relation between bulls and bears off Jan 30 bar. Thirty-two days after printout, price action is concentrated on its lower half as prices consolidate above 30 cents meaning bulls are likely building up momentum in readiness of a lighting breakout above 40 cents.
Chart courtesy of Trading View
The post BitStamp, Bitso Ripple (XRP) Volumes Spike, Will Prices Follow Suit? appeared first on NewsBTC.
* First published on newsbtc.com