Bitcoin price stable and bullish
Swedbank says crypto tools of money laundering and terrorist financing
Transaction volumes low despite recovering prices
Ironically, Swedbank is now restrictive to cryptocurrency transactions because they want to prevent "money laundering and terrorist financing." That's after their publicized involvement in a $151 billion money laundering scandal. All in all, Bitcoin (BTC) prices are on up, trading above a main resistance trend line.
Bitcoin Price Analysis
Fundamentals
What a weird way to deal with emerging issues. Well, barely days after firing their CEO, Birgitte Bonnesen, Swedbank appears to be redirecting their booting muzzle to Bitcoin holders.
In their last Twitter post, translated to English, the bank said they "we are restrictive towards cryptocurrency transactions, to prevent money laundering and terrorist financing." The irony is that banks are paying huge fines as regulators crack down on their illegalities.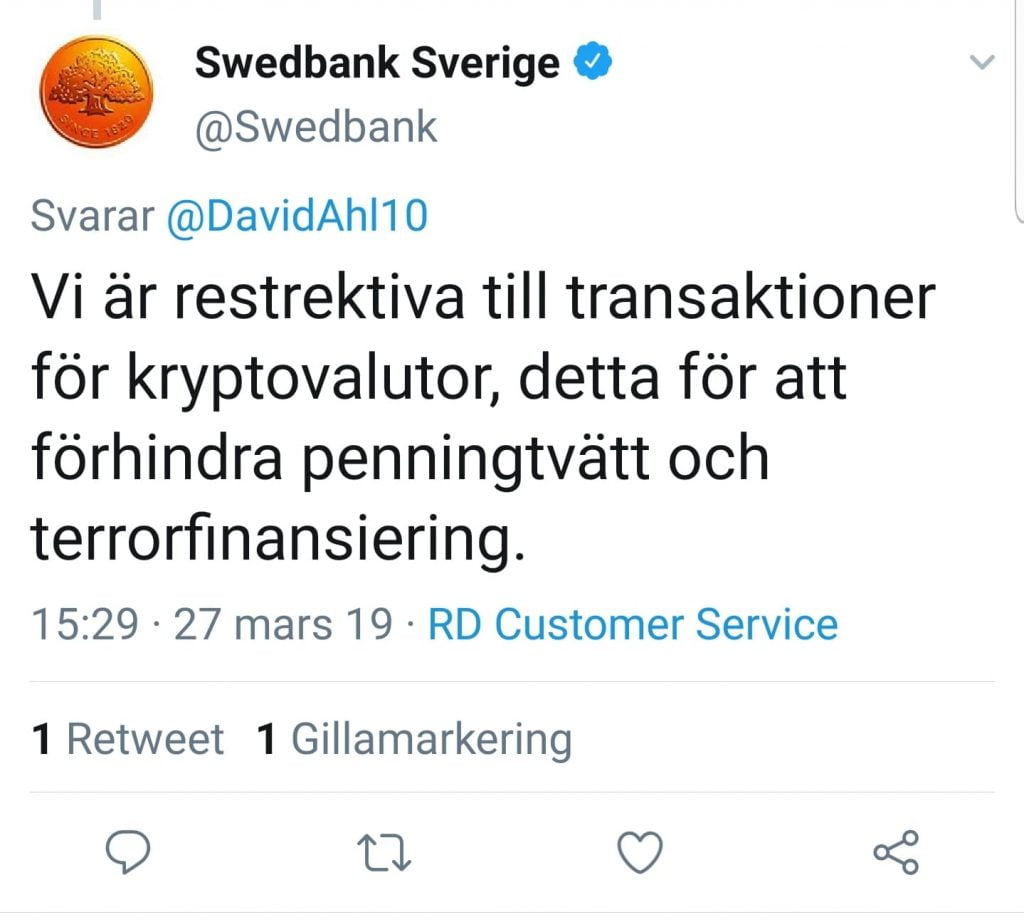 It was the same money laundering that had the Nordic bank come under scrutiny which in turn piled pressure on the bank's operation forcing them to crack the whip.
"The developments during the past days have created enormous pressure for the bank. Therefore, the board has decided to dismiss Birgitte Bonnesen from her position. With that said, Birgitte Bonnesen has during her three years as CEO made an important contribution by creating a leading digital bank with a physical presence."
Then again, evidence reveals that the transparent nature of cryptocurrencies and strict procedures adhered by fiat—crypto on-ramps makes it virtually impossible for criminals or in this case terrorist to launder money or finance their illicit activities.
Candlestick Arrangement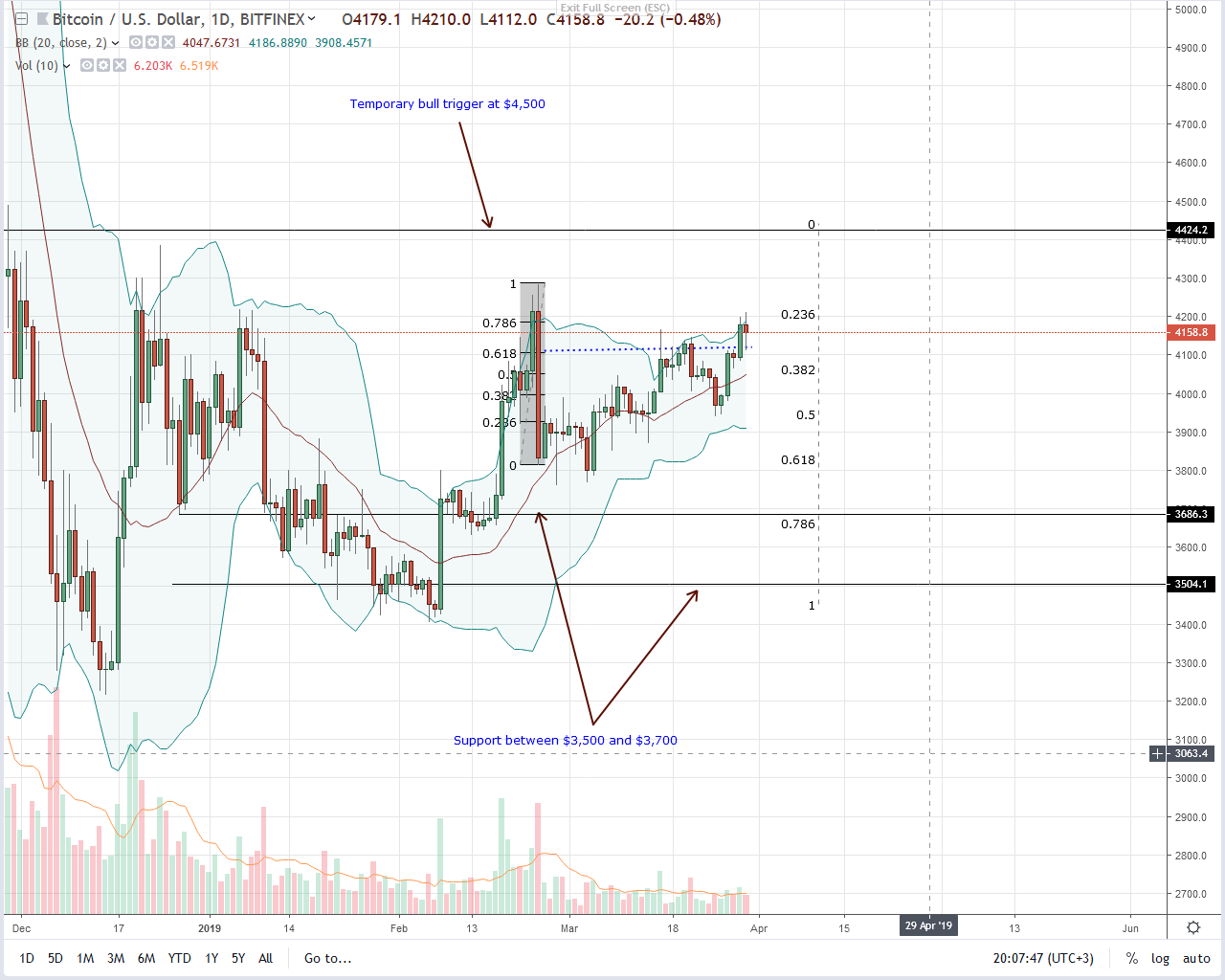 Back to price action and Bitcoin bulls are resilient. Gains are not double-digit but are trending above a central resistance trend line as mentioned in our last BTC/USD trade plan. As visible from the chart, bulls are building on from Mar 29 surprise gains, trading above $4,200—streams from BitFinex.
Technically, every low such be another buying opportunity and as long as prices are above $3,800, our breakout level, risk-off traders should fine-tune entries in lower time frames, add to their longs and target $4,500. The level as per our emphasis is a crucial resistance mark.
Any break above is monumental—and could happen next week, triggering participation that will play in with our projection of BTC prices retesting $4,500.
Technical Indicators
Despite prices closing above $4,200 on Mar 29, the breakout bar had light volumes—8.6k which is low relative to our high-volume anchor bar of Mar 16—13.4k. Regardless, the surge did confirm bulls of Mar 5 and the foundation of further higher highs above Feb 24—36k is on the cards. Moving on, and as aforementioned, traders should fine-tune their entries in lower time-frames.
Chart courtesy of Trading View
The post Bitcoin (BTC) Above $4,000 But Swedbank is now "restrictive" to Crypto appeared first on NewsBTC.
* First published on newsbtc.com