Bitcoin prices in range mode
LocalCoinSwap launches a service allowing buying or selling of crypto without KYC
Transactional volumes shrink to 15k in the last four days.
Fiat—crypto on-ramps are indispensable liquidity doors. Enthusiasts and investors now have an option to buy or sell crypto without KYC. All the same, it is until prices race above $4,500 is when we expect prices to rally towards $6,000.
Bitcoin Price Analysis
Fundamentals
In a largely unregulated environment, regulators are demanding compliance from platforms facilitating fiat to crypto or crypto to fiat conversions. As significant players, exchanges do follow laid down rules and that can be a problem for crypto hard-liners.
Despite this hitch, it is true that exchanges play a crucial role. Good news is that there exist peer-to-peer networks like LocalBitcoins that connect buyers and sellers within a given location.
LocalBitcoins is dominant but the newly launched LocalCoinSwap promise clip part of the exchange's market share. Like the LocalBitcoins, it is peer-to-peer, but the main differentiator is that users can buy or sell more than 20 cryptocurrencies and settle using any of the 250 supported payment methods. Besides, the platform is fast, private as users need not submit their details.
Candlestick Arrangements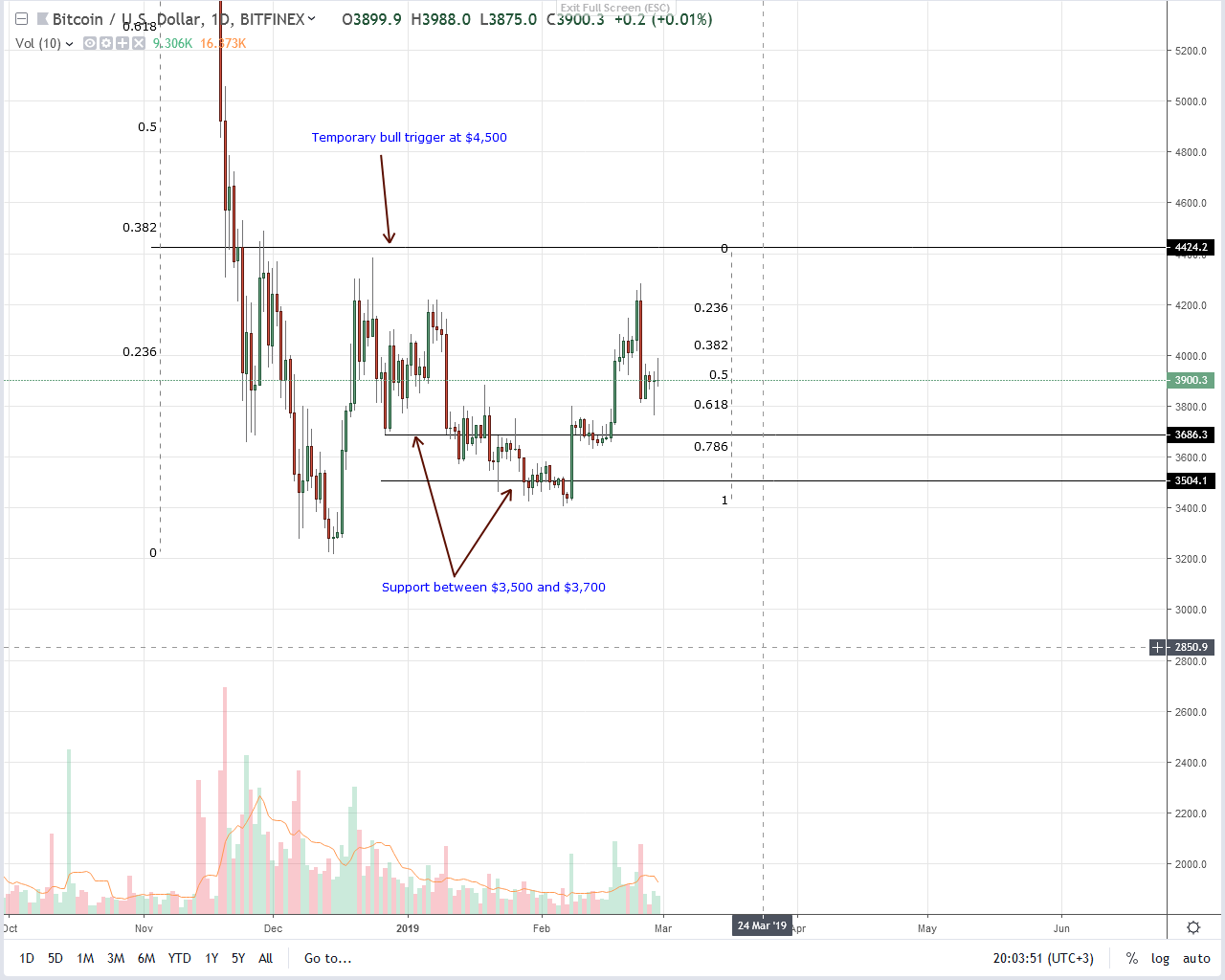 From the charts, it is clear that Bitcoin (BTC) buyers are under pressure mainly because of Feb 24 sell-off. In the short-to-medium term, this can be bad news for bulls.
However, buyers can snap back to trend once there is a sharp reversal of recent losses and prices rally above $4,500 complete with above average volumes. That would only confirm bulls set in motion by higher highs of late Dec, early Jan and Feb 2019 but could cause a sentiment shift and the hype element associated with crypto could cause a temporary pump driving prices above Dec 2018 highs as losses of Feb 24 are wiped out.
All the same, we must acknowledge from a top-down approach, volume indicators point to bears. Before there is confirmation, every low should be a buying opportunity for risk-off traders, and once sellers print below Feb 18 lows, our bullish outlook will be null. Assuming prices edge past Feb 24 highs, a modest target will remain at $5,800.
Technical Indicators
Transaction volumes are low averaging 15k in the last four days or so. Unless there is a sharp increase in volumes driving prices above $4,500, sellers are technically in charge. Confirming or invalidating this stand is a resumption of activity as volumes swell above 40k.
The post Will Bitcoin (BTC) Collapse Because of Feb 24 Sell Off? appeared first on NewsBTC.
* First published on newsbtc.com