Ethereum prices bearish, strong liquidation at $170
Constantinople in progress
Transaction volumes increase in last weeks but will accumulation trigger bulls
After previous attempts flopped, we expect the ongoing Constantinople upgrade to be a success. Whether that will rouse price action, we don't know, but for bulls to be firmly in control, prices must rally above $170 or Dec 2018 highs.
Ethereum Price Analysis
Fundamentals
As you read this, Constantinople software upgrade may be in progress and the second stage of the Metropolis could see Ethereum trudge closer to proof of stake in Serenity.
In a two-way fork—a separate upgrade in St. Petersburg because of vulnerabilities presented in the last update, Ethereum will implement all their EIPs ensuring that the network is efficient, delaying the difficulty bomb by another year and reduce ETH rewards for miners from three to two in "thirdening."
However, a source of controversy is the implementation of CREATE 2, a proposal forwarded by Vitalik Buterin. There are concerns from the developer's fraternity that interaction with smart contracts outside of Ethereum will create loopholes that would leave the blockchain open to attacks.
Unlike other contentious hard forks, coin holders need not worry about their stash unless otherwise notified by the foundation:
"If you use an exchange (such as Coinbase, Kraken, or Binance), a web wallet service (such as Metamask, MyCrypto, or MyEtherWallet), a mobile wallet service (such as Coinbase Wallet, Status.im, or Trust Wallet), or a hardware wallet (such as Ledger, Trezor, or KeepKey) you do not need to do anything unless you are informed to take additional steps by your exchange or wallet service."
Candlestick Arrangements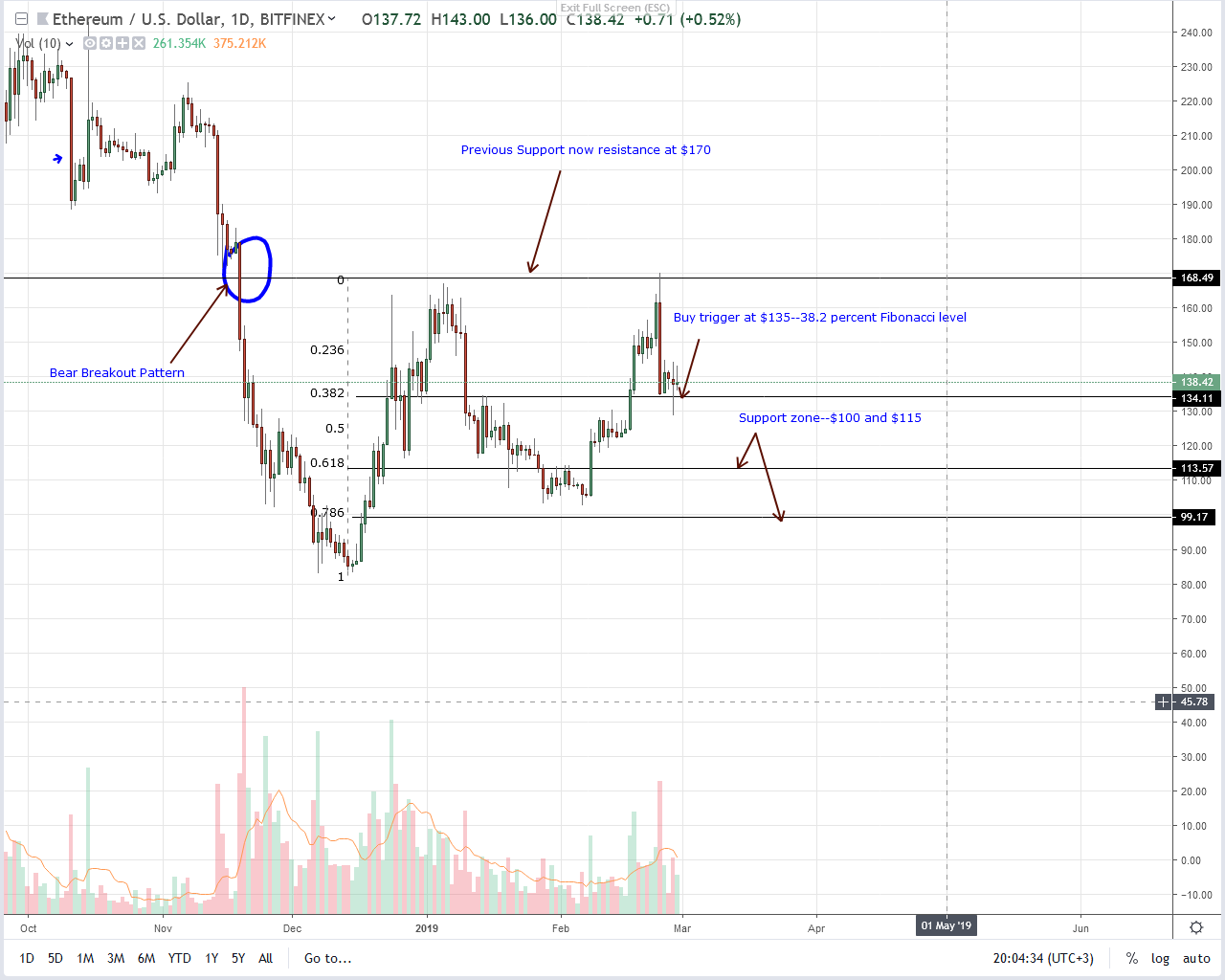 Like most coins, ETH is in an uptrend, but prices are trending in tight trade ranges. The second most valuable coin is down 8.5 percent from last week's close and trading inside the bear bar of Feb 24. In an effort versus result point of view, sellers have the upper hand.
Regardless, ETH/USD is within a bull breakout pattern thanks to Feb 18-19 upswings that saw prices rally and conclusively close above $135. Therefore, considering this price action alignment, we shall consider Feb 24 draw down a retest, and for risk-off traders, every low should be a buying opportunity.
Meanwhile, risk-averse and conservative type of traders can only ramp up once prices rally above $170—our main resistance level and Dec 2018 highs.
Technical Indicators
Our anchor bar is Feb 24 because it has high transaction volumes—880k versus 415k according to BitFinex data streams. Bulls are in control but for trend continuation, a bar that will cause a sharp reversal of trend must have high trade volumes exceeding recent averages of 365k or 900k above those of Feb 24.
The post Constantinople Will Improve Ethereum But Will ETH Dump? appeared first on NewsBTC.
* First published on newsbtc.com