The total crypto market cap is slowly recovering towards the key $110.00B resistance level.
Stellar (XLM) price settled below the $0.1000 support level, with a bearish angle.
Bitcoin cash price recovered around 3% and moved above the $112 resistance.
Tron (TRX) tested the $0.0270 support and recovered a few points.
Cardano (ADA) price found support and it seems like it could test the $0.0395 resistance level.
The crypto market is currently correcting higher. Bitcoin (BTC), Ethereum, ripple, BCH, Stellar (XLM), Tron (TRX), EOS and Cardano (ADA) may recover in the short term.
Bitcoin Cash Price Analysis
After trading below the $110 support, bitcoin cash found support against the US Dollar. BCH/USD started a short term upside correction and moved above the $110 and $112 levels. However, there are many hurdles on the upside near the $115 and $116 resistance levels.
On the downside, the most important support is near the $110 level, below which there is a risk of more losses towards the $105 support level.
Stellar (XLM), Tron (TRX) and ADA Price Analysis
Stellar price was under a lot of pressure recently as it broke the key $0.1000 support level. XLM even traded below the $0.0900 support and traded close to the $0.0800 level. It is currently consolidating losses with bearish moves below $0.0900.
Tron price found support near the $0.0270 level and later recovered. TRX price is up more than 3% and it seems like it may rise towards the $0.0285 and $0.0290 resistance levels in the near term.
Cardano price traded towards the $0.0365 support level and later corrected higher. ADA price is currently trading above the $0.0385 level and it could continue to move higher towards the $0.0395 and $0.0400 levels.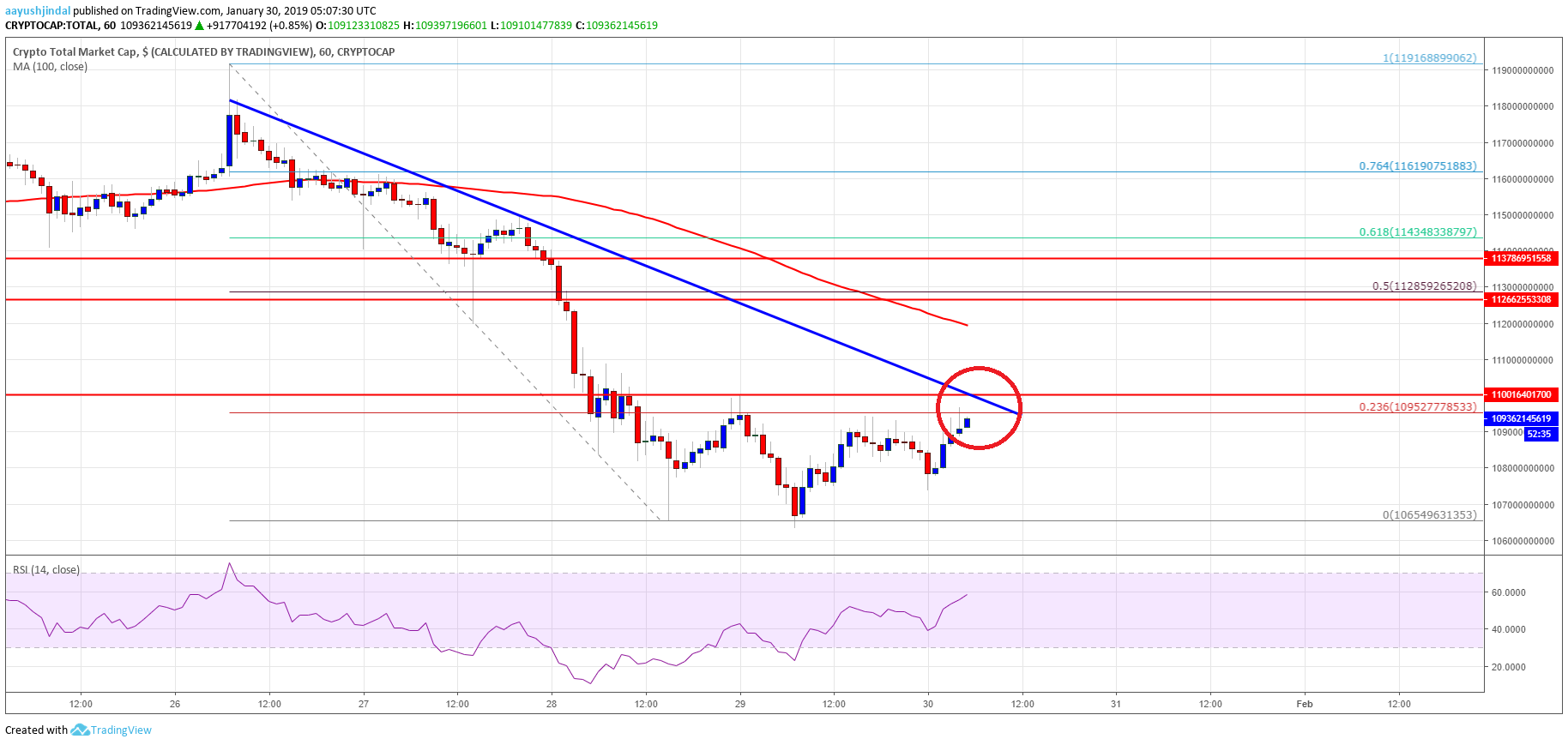 Looking at the total cryptocurrency market cap hourly chart, the $106.5B level acted as a strong support. The market started a decent recovery and moved above the $107.00B and $108.00B levels. However, there is a strong resistance formed near $110.00B and a bearish trend line on the same chart. A proper break above $110.00B is needed for more gains towards $115.00B. If not, bitcoin, Ethereum, EOS, stellar, LTC, EOS, ripple, TRX and other altcoins could resume the decline.
The post Crypto Market Update: Stellar (XLM), Bitcoin Cash, Tron (TRX), ADA Price Analysis appeared first on NewsBTC.
* First published on newsbtc.com