Tron price expand 5.7 percent, reject lower lows
Binance announce successful BTT crowdfunding
Market participation rebound, high highs should be propelled by above average volumes
The BTT token sale was a success, and in 18 minutes, 60 million BTT were sold. It was a success, and now TRX prices are recovering, snapping back to trend confirming our overall trade position.
Tron Price Analysis
Fundamentals
At last, the path towards decentralizing the world's largest software is right on track. BitTorrent is now decentralized, and investors have a share of the protocol via BTT. According to Changpeng Zhao, BTT demand was astronomical, apologizing that his team had underestimated demand despite adequate preparation.
Both sessions concluded. Took about 18 minutes, due to a system issue, would have taken 18 seconds otherwise. Demand was astronomical.

— CZ Binance (@cz_binance) January 28, 2019
The whole crowdfunding—the liquidation of BTT tokens took 18 minutes. All the same, it could have been 18 seconds was it not for technical issues causing bottlenecks. But still, those who placed buy orders but weren't successful will receive a "small air drop":
Due to overwhelming demands, Tron team generously agreed to do a small airdrop for people who tried to place orders, but was not successful in buying. Exact numbers will be published soon.

— CZ Binance (@cz_binance) January 28, 2019
In a statement, Binance said:
"Binance Launchpad, the exclusive token launch platform of Binance, has completed the sale of BitTorrent (BTT) tokens, which began on January 28, 2019, at exactly 3:00 PM UTC. The token sale ran in two simultaneous sessions: one for purchases using Binance Coin (BNB) and another for purchases using TRON (TRX), both of which concluded quickly."
Candlestick Arrangements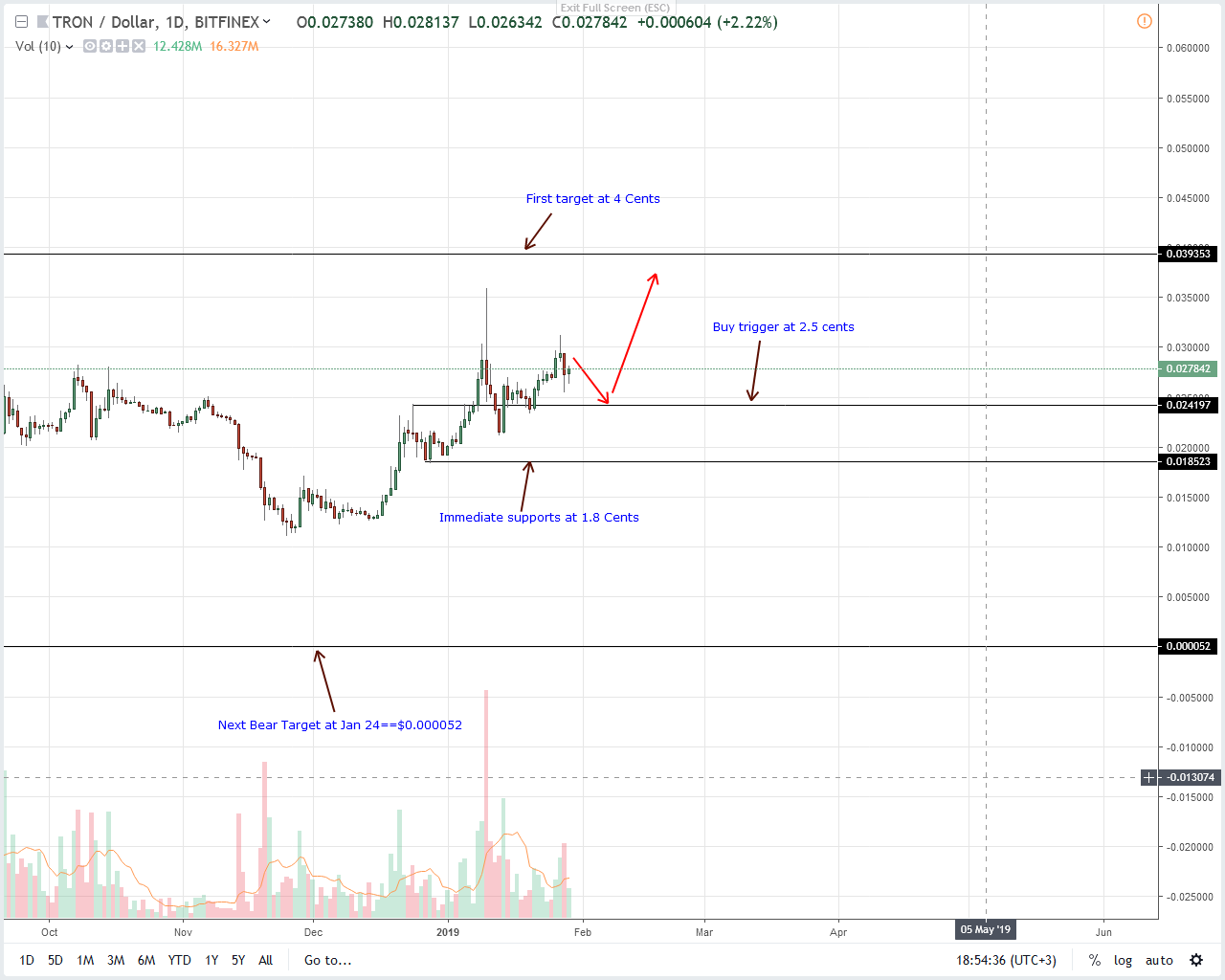 Although sellers did have the better off TRX yesterday, prices are right on track. Bulls are back, and in the last 24 hours, the coin is a top performer. It is up 5.7 percent against the USD and stands to inch higher in line with our previous TRX/USD trade plan.
From candlestick arrangement, we recommend buying on dips in lower time frames—preferably in the 4HR chart. That is as long as prices are trending above 2.5 cents. Losses below 2.5 cents could see TRX finding support at 2.1 cents or the lows of Jan 13-14. However, before then, risk-off traders should find opportunity and trade as above.
Meanwhile, risk-averse traders can wait for a clear break and close above Jan 28 highs at 3 cents before loading on pullbacks. First targets will be at 4 cents while gains above this immediate resistance may trigger additional demand moon-slinging prices towards 6 cents and even 10 cents.
Technical Indicators
Volumes are low, and as mentioned above, conservative type traders should check out for gains above 3 cents. Such rallies would recoup losses of Jan 28. However, such spikes should be at the back of high transactional volumes above yesterday's 31 million. It will even be ideal is they exceed Jan 14's 51 million as it will reassert bulls presence.
The post Tron Price Analysis: TRX Recoup Losses, Road to 6 Cents? appeared first on NewsBTC.
* First published on newsbtc.com