The total crypto market cap extended its decline and tested the $106.50B level.
Litecoin (LTC) price trimmed gains and traded close to the $30.00 support level.
Bitcoin cash price extended losses and it even broke the $112 support level.
Tron (TRX) is in a bearish zone and it may soon revisit the $0.0250 support area.
Cardano (ADA) price declined sharply and broke the $0.0400 and $0.0385 support levels.
Bitcoin (BTC), Ethereum (ETH), ripple, litecoin, bitcoin cash and cardano moved into a bearish trend. The crypto market is under pressure and altcoins may continue to slide in the near term.
Bitcoin Cash Price Analysis
Bitcoin cash price started a major downside move from well above $125 against the US Dollar. BCH/USD gained bearish momentum recently and broke the $120 and $112 support levels. It even broke the $110 support level and later recovered a few points.
If it corrects higher in the short term, the previous supports at $112 and $115 may perhaps act as a barrier for buyers. On the downside, the main supports are $105 and $100.
Litecoin (LTC), Tron (TRX) and ADA Price Analysis
Litecoin price spiked above the $33.00 and $34.00 resistance levels this past week. However, LTC failed to hold gains and declined below the $32.00 support. It is currently under pressure and there is a risk of a breakdown below the $30.00 support.
Tron price started a downside move from well above $0.0290. TRX price traded below the $0.0285 and $0.0270 support levels to move into a bearish zone. It seems like sellers are now eyeing a test of the $0.0255 and $0.0250 support levels.
Cardano price settled below the $0.0400 support level, which is a bearish sign. ADA is currently trading near the $0.0375 and it may continue to move down towards the $0.0365 or $0.0360 support.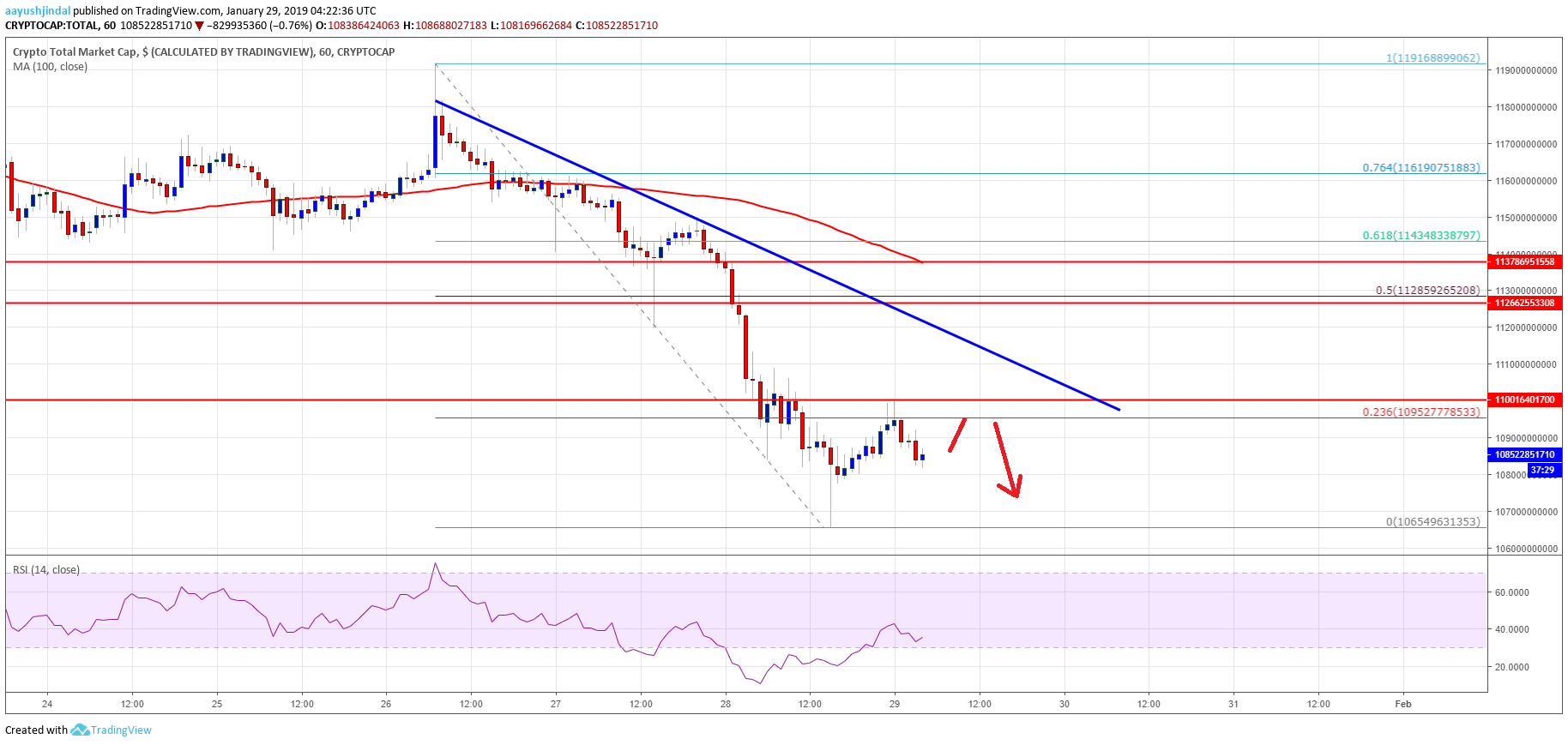 Looking at the total cryptocurrency market cap hourly chart, there was a sharp decline below the $115.00B support. The market cap even moved below the $112.00B and $110.00B support levels. It recently tested the $106.50B level and remains in a downtrend. Therefore, there could be more losses in bitcoin, Ethereum, EOS, litecoin, ripple, XLM, BCH, TRX and other altcoins in the short term.
The post Crypto Market Update: Litecoin (LTC), Bitcoin Cash, Tron (TRX), ADA Price Analysis appeared first on NewsBTC.
* First published on newsbtc.com