Bitcoin fell by more than 80% in the past twelve months. The overly impressive bull run of 2017, which led the digital currency value to the peak of $20,000, followed a whole bearish year whereby the price crashed to lows near $3,000. Lack of institutional investors and strict regulations, analysts believed, was one of the primary reasons behind the bitcoin crash.
No ETF in Q1 2019
Bulls hoped 2019 to be a year of bitcoin correction when some of the biggest financial companies announced products for its market. Fidelity, a $2.5 trillion worth asset management firm, for instance, launched bitcoin custodian and trading services. Goldman Sachs, a banking giant, also confirmed that it would begin bitcoin futures trading.
But exchange-traded funds remained to be the most exciting bitcoin product for bulls. Analysts believed that the launch of a regulated Bitcoin ETF would attract billions of dollars in investments. Traders expected that the Securities and Exchange Commission (SEC), the US securities regulator, would approve the world's first Bitcoin ETF by February 28. The sentiment allowed Bitcoin price to float above its newfound bottom above $3,000.
But, in a surprising turn of events, VanEck, the firm that had sought SEC's approval to trade Bitcoin ETF on the CBOE exchange, withdrew its application on Wednesday.
US Govt Shutdown Or?
According to VanEck, it is the ongoing partial government shutdown in the US that led them to withdraw their Bitcoin ETF filing. SEC had already delayed its decision on the VanEck's filing twice in 2018. Before that, the commission had rejected nine ETF applications citing concerns related to Bitcoin market manipulation. But now, with 90% of its staff furloughed, the commission had more reasons to either delay or reject the VanEck's ETF filing.
"The SEC is affected by the shutdown… we were engaged in discussions with the SEC about the bitcoin-related issues, custody, market manipulation, prices, and that had to stop. And so, instead of trying to slip through or something, we just had the application pulled and we will re-file and re-engage in the discussions when the SEC gets going again," Jan van Eck, the chief executive of VanEck, told CNBC.
Jake Chervinsky, a crypto believer and a securities laws expert in the US government, believed that VanEck had more reasons to withdraw their Bitcoin ETF application. He said that the US firm expected that SEC would reject their filing. And, it didn't want any more bad publicity regarding their crypto product.
CBOE has withdrawn the VanEck/SolidX bitcoin ETF proposal (https://t.co/812Ym7U7Hh).

They haven't given a reason yet, but withdrawal implies that they expected denial & didn't want another SEC order setting bad precedent for the future.

There will be no bitcoin ETF in Q1 2019.

— Jake Chervinsky (@jchervinsky) January 23, 2019
Delay is Better than Rejection
Chervinsky's statements draw inspirations from the SEC's earlier concerns about the bitcoin spot market. The regulator had clarified that it would not approve a Bitcoin ETF unless the applicant ensures zero price manipulation in bitcoin's underlying retail markets.
"This proposal had a very slim chance of success," said Mati Greenspan, senior market analyst at eToro. "SEC Chairman Jay Clayton has been stressing that the bitcoin market is not yet mature enough for an ETF."
While the government shutdown put more pressure on the Bitcoin ETF process, VanEck took the correct decision by deciding to refile its application in the future. The firm must have realized how it couldn't convince the regulator before the deadline. The shutdown, as it seems, gave VanEck a perfect excuse to voluntarily delay its ETF launch.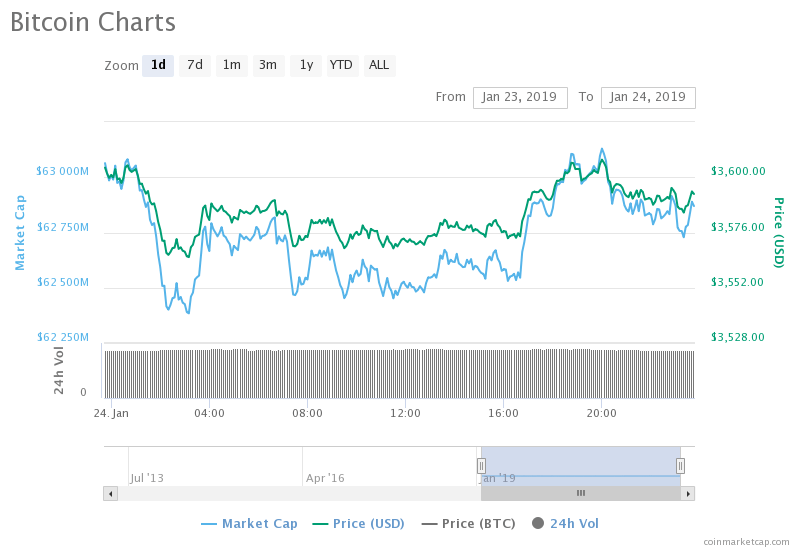 Source: CMC
At least it convinced retail traders, which didn't react to the ETF withdrawal news, despite its vital significance to the Bitcoin trade market. The BTC/USD price action, after the time of the announcement, continued to trend between $3,500 near $3,600.
It proved that the investors remained hopeful for a Bitcoin ETF product this year, if not in Q1 2019. Had it been an outright rejection, the market could have suffered.
Now, VanEck expects to come back with a more prepared application. While the firm takes its time, Bitcoin market has proven that it is not dependent on centralized authorities to pursue its trends.
"The market's lackadaisical response to this news is a clear sign that investors are starting to understand: the crypto market is not dependent on any government or financial institution and no single product or service has the power to make or break bitcoin," Greenspan said in an email.
The post Why VanEck's Bitcoin ETF Withdrawal Was Actually Good for Crypto Industry appeared first on NewsBTC.
* First published on newsbtc.com