Market Wrap
Crypto markets are sluggish this Sunday, Tron jumps two spots, BNB strong, BCH falls back below EOS.
The market monotony continues and things are still flat in crypto land this slow Sunday. None of the major cryptocurrencies have moved since yesterday leaving total market capitalization lulling around $120 billion where it has been all week.
Bitcoin showed a glimmer of hope when it spiked to an intraday high of $3,650 but soon dumped back below this solid barrier of resistance where it currently trades. Since last Sunday's dump BTC has done very little being stuck at $3,600 for a week now.
Ethereum has dipped again dropping almost a percent back to $115 and XRP has done the same dragging it below $0.32. As with Bitcoin there has been no movement for these two for the past week as they gradually weaken in preparation for further losses.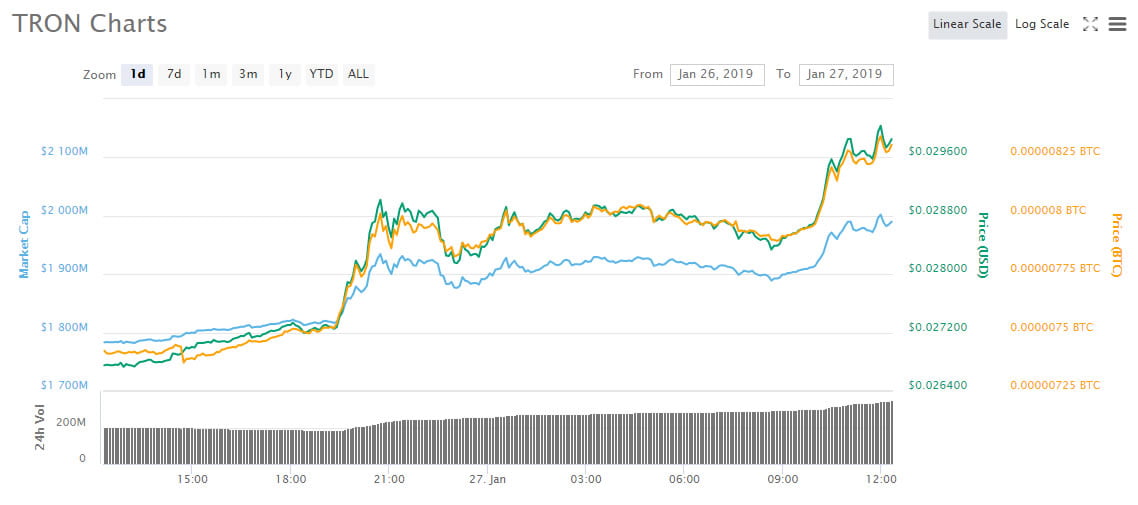 A 2% dump by Bitcoin Cash has allowed EOS to flip it into fourth by not moving. Tether has climbed to sixth by doing nothing but today's big mover is Tron which has jumped both Litecoin and Stellar with a 12% pump. TRX is now in seventh spot at $0.030 as daily volume surges from $200 to $350 million. The imminent BTT token sale launch tomorrow and a boost by Weiss Ratings has given Tron the lift above both LTC and XLM at the time of writing.
We might give #TRON a hard time every now and then, but give credit where credit is due: The #TRX/USD pair is the most bullish looking chart of any top 10 project right now. The popularity of this project cannot be denied. #BTC #altcoins #bitcoin #crypto #cryptocurrency

— Weiss Ratings (@WeissRatings) January 25, 2019
In the top twenty only Binance Coin is moving with 4% added as it creeps up on Cardano in eleventh. All of the others have fallen back with Nem and Neo dropping over 2% each.
Holo is today's top one hundred top performer with a 17% fomo drive at the moment. Tron is second and these are the only two altcoins making double digit gains at the time of writing. Loopring and Augur are both dropping around 8% right now but there are no major dumps going on at the moment.
Total market capitalization had a little boost but has fallen back again over the past 24 hours. It is currently at $119 billion and still looking very weak with huge levels of resistance facing Bitcoin and its brethren. Since last Sunday's $5 billion dump markets have done nothing but consolidate at this level, the tedium continues.
Market Wrap is a section that takes a daily look at the top 20 cryptocurrencies during the current trading session and analyses the best-performing ones, looking for trends and possible fundamentals.
The post Crypto Market Wrap: Tron Surges to Seventh, Flips Litecoin and Stellar appeared first on NewsBTC.
* First published on newsbtc.com