Bitcoin prices steady above $5,000
Volumes drop by 80 percent from 54k of Apr 2 to 11k of Apr 9
Even with FUD around China's NDRC proposal of banning Bitcoin and crypto mining, prices are steady. It is up 7.4 percent from last week's close as buyers aim at Q4 resistance previous support at $5,800–$6,000.
Bitcoin Price Analysis
Fundamentals
It's a new milestone for Bitcoin. For the first time this year, the network processed more than 400 million transactions, up 50 million from daily averages of around 350 million. With an average block size of 1.2 MB and up-time estimated at 99.98 percent, Bitcoin is reliable and drawing more users by the minute.
Just to put this in perspective, in early April, the number of users—gauged from BTC wallets—surged past 25 million and is now up 45 percent to 35 million—and rising, mostly thanks to increasing demand as prices look to clear essential resistance levels. At this pace, the Bitcoin (BTC) market liquidity is deep, meaning volatility is also low as more investors pour their hard earned or pooled capital to the world's first most valuable coin.
However, what is impressive thus far is the ability of the market to "ignore" FUD around National Development and Reform Commission (NDRC) proposal of ban Bitcoin mining in the world's second-largest economy. Because of "non-compliance" and general wastefulness, the commission says Bitcoin and cryptocurrency mining–which is itself a multi-billion industry spearheaded by a Beijing-based Behemoth, Bitmain, ought to be phased out despite what it contributes to their slowing economy.
Candlestick Arrangements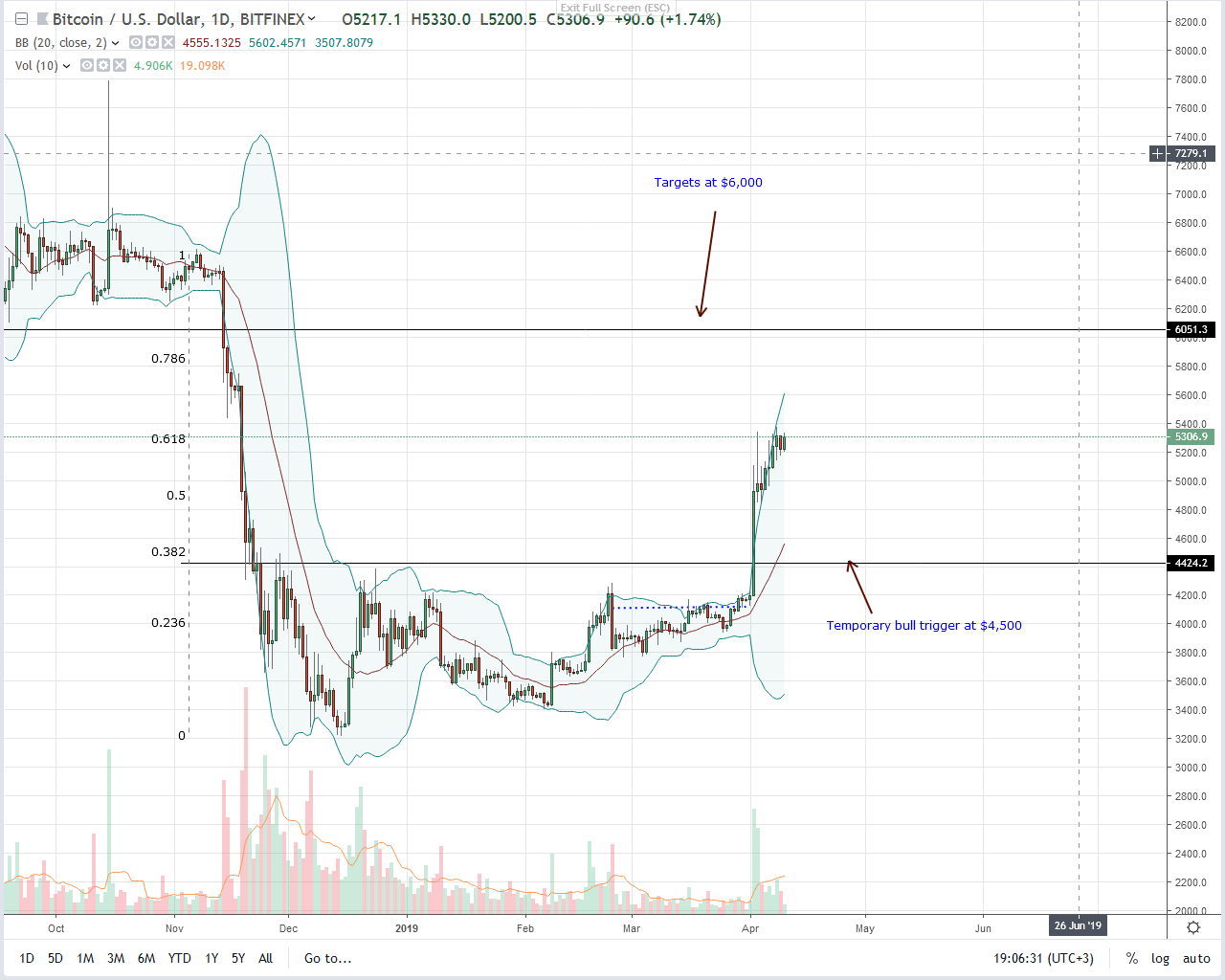 Meanwhile, Bitcoin (BTC) prices are resilient, up 7.4 percent in the last week and trending above the psychological support of $5,000. At this rate, it appears as if bulls are resilient, soaking sell pressure and FUDs as bulls aim at $6,000 or higher as laid out in our previous BTC/USD price analysis.
Note that aside from clear uptrend visible in the weekly chart, BTC bull bars are banding along the upper BB. Although there are lower lows relative to the upper BB, we shall consider this bullish as long as prices are above Apr 2 highs at around $4,900 to $5,000.
Technical Indicators
Volumes are dropping, and after yesterday's 11.9k records, participation level is low. However, this is normal and should BTC drop further, then–as mentioned above; these draw-downs ought to be at the back of low transaction volumes below Apr 2 at 54k if indeed bulls are in control.
Chart courtesy of Trading View
The post Streisand Effect? Bitcoin (BTC) Weather Through FUD, Bulls Firm appeared first on NewsBTC.
* First published on newsbtc.com