Ripple prices are back to green
Binance is open for collaboration with Ripple
There is an uptick in transactional volumes, XRP likely to register more gains
Binance is open for collaboration, and xRapid incorporation may be on the cards. Assuming that happens, XRP will surely rally above 34 cents to 60 cents in a matter of days as our trade plan reiteration come to pass.
Ripple Price Analysis
Fundamentals
Changpeng Zhao is straight up honest. In a recent podcast, he admitted that nothing is going on between Ripple and the world's largest exchange by trading volumes as the team at Binance is busy with other projects—DEX updates and Project ICOs.
However, what's interesting is that he said Binance is willing to partner with the real-time gross settlement platform in the future. That is precisely what the community wants to hear as prices try to maneuver and side step vicious bears.
Obviously, there are many benefits that the exchange stands to benefit once they collaborate with Ripple and even adopt xRapid. There would see immediate demand for the coin which is already in use by several payment processors and institutions. Remember, Binance made XRP base after numerous requests from the XRP community.
Candlestick Arrangements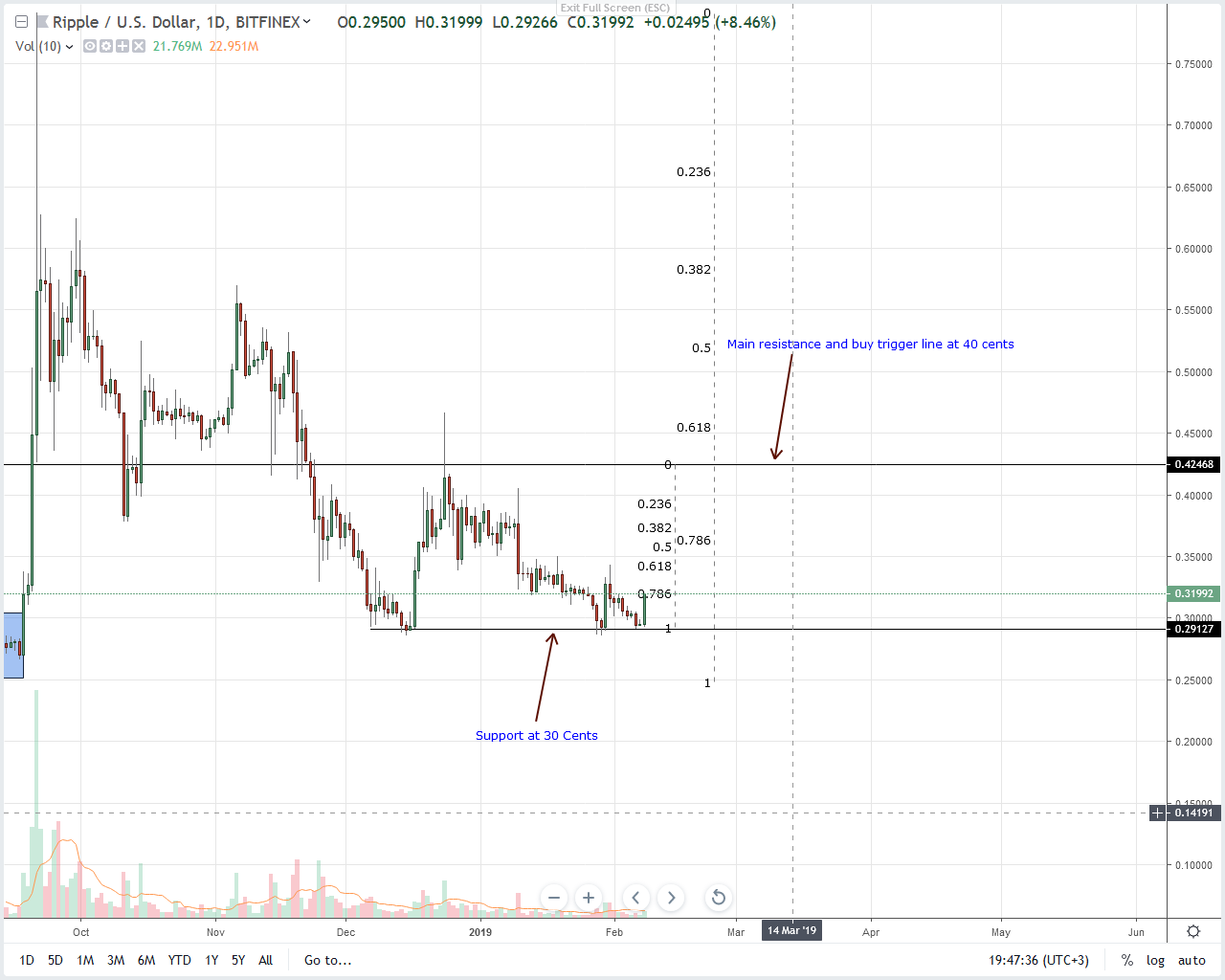 Prices are back to green. As I write this, XRP is up 4.3 percent against the greenback bouncing off the 30 cents main support line as bulls flow back.
Now that there is a green bar, our last XRP/USD trade plan is valid, and we expect bull momentum to lift XRP from spot rates to above 34 cents and even to 40 cents as price action snap back to trend in line with events of mid-Dec 2018 and those of trend-defining surges of Sep 2018.
All in all, we shall maintain a neutral outlook until after prices race first above 34 cents, activating risk-off traders' position and later 40 cents where risk-averse or the conservative type of traders can buy on dips with targets at Dec 2018 highs of 60 cents. The layout is highly likely to print out because Jan 30 upswings have already set momentum.
Technical Indicators
Our volumes indicators support buyers. However, before we recommend longs, prices must first clear and close above Jan 30 highs of 32 cents at the back of high volumes exceeding 47 million on the upside and 17 million on the lower limit. If anything, this is the only confirmation for bulls and the only way Jan 30 momentum will be set in motion lifting prices back to 40 cents.
The post Ripple Price Analysis: XRP Up 4.3%, Next Stop 60 Cents appeared first on NewsBTC.
* First published on newsbtc.com