Litecoin prices up with huge trade volumes
Irresponsible central banks like the FED will fuel crypto resurgence
Travis Kling, the Chief Investment Officer at Ikigai Asset Management, believes that the crypto space will flourish as the public loses faith in the FED thanks to their "irresponsibility." Thus far, Litecoin (LTC) is up 45.9 percent with ultra-high participation of 2.7 million last recorded in Mar 2018.
Litecoin Price Analysis
Fundamentals
The relief valve is off, and the crypto community can now afford a smile. After a long crypto winter full of sour grapes, the market appears to be recovering, registering double-digit gains after a very long time of the same printing in the opposite direction. If anything, Litecoin losses have been steep, falling from $440 peaks to around $20, just as Charlie Lee had predicted when he liquidated his long positions citing "conflict of interest."
All the same, it was hard lessons for traders and the investor community in general. The decline came at a time when speculators were profit-seeking and with parabolic rises, the correction was a sting. However, what we came to conclude is that cryptocurrencies like Bitcoin and Litecoin are, nonetheless useful.
Lessons are clear from Venezuela and Iran economic meltdown where the suffrage do find reprieve in global and censorship-resistant cryptocurrencies. As a matter of fact, more analysts are giving their two cents on the subject.
Since the FED is shifting away from tightening in response to Donald Trump reprimands, Travis Kling, the Chief Investment Officer at Ikigai Asset Management says the recent spike in digital asset prices was all because of the public losing confidence in an irresponsible US FED.
"We had the Fed do a complete U-turn into a dovish mode, then everyone else followed (European Central Bank and Bank of Japan). We now have this set up where they [central banks] have become politicized both in the U.S. and globally. It's the new world we are living in."
Candlestick Arrangement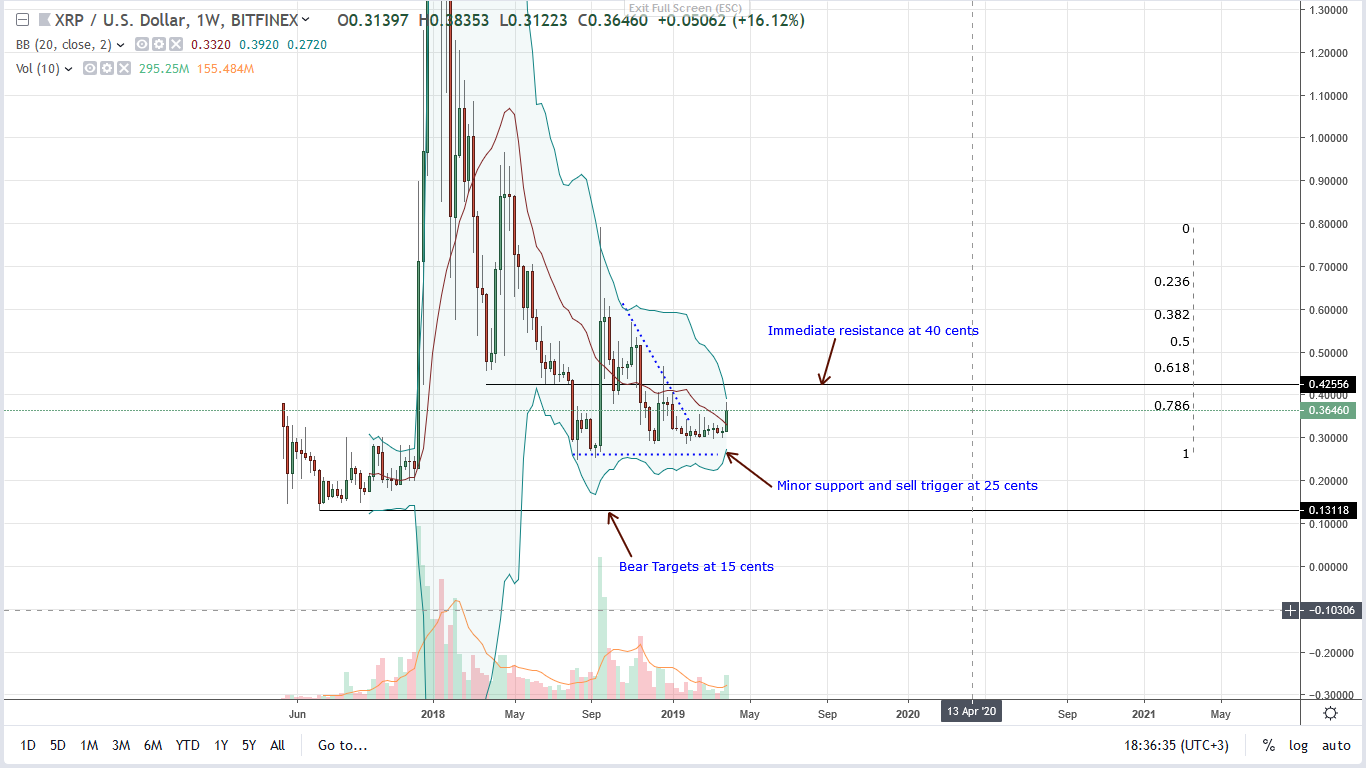 So far, Litecoin (LTC) performance doubles that of the more liquid Bitcoin (BTC). The fifth most capitalized asset is up 45.8 percent in the last week but could add more in coming weeks.
In line with our previous LTC/USD trade plan, the simple fact that prices are now trading above Mar 16 highs at $65 after Apr 2 upswings indicate strong upward momentum in an upbeat market where investors are optimistic.
They ought to. Litecoin (LTC) is trending at levels last seen in Q2 2018 as bull's reverse losses of Q4 2018 thanks to this week's humongous bull bar.
Technical Indicators
Volumes are high. Lifting Litecoin is an uptick of participation—2.7 million (and continues to rise) in this week's bar, a level not seen since Q1 2018.
Chart courtesy of Trading View
The post Is Litecoin (LTC) and Other Assets Rallying Because of Central Banks' Irresponsibility? appeared first on NewsBTC.
* First published on newsbtc.com