The total crypto market cap declined recently and broke the key $128.0B support level.
EOS price is down more than 6% and it broke the $3.75 and $3.60 support levels.
Bitcoin cash price traded below the $130 support and it is currently under pressure near $128.
Tron (TRX) price is down more than 4% and it broke the key $0.0220 support level.
Cardano (ADA) price is holding the ground above the $0.0450 support area.
The crypto market declined recently, with bearish moves in bitcoin (BTC) and Ethereum (ETH). EOS, BCH, ripple, tron (TRX), ADA and other altcoins are at a risk of more losses in the near term.
Bitcoin Cash Price Analysis
Bitcoin cash price failed to stay above the $132 support and declined recently against the US Dollar. The BCH/USD pair broke the $130 support area to enter a bearish zone. The price is down around 4% and it could continue to move down towards the $126 and $125 support levels.
On the upside, an initial resistance is near the $130 level, above which the price could test the $132 level. The main resistance is at $135, where sellers are likely to protect gains.
EOS, Tron (TRX) and ADA Price Analysis
EOS price trimmed most its gains and broke the $3.75 and $3.60 support levels. The price is down more than 6%, with an immediate support at $3.50. The next key support is at $3.35, which may perhaps act as a strong buy zone. On the upside, the previous support at $3.62 and $3.65 could act as a resistance.
Tron price remained in a bearish zone below $0.0240 and it recently extended losses. TRX price broke the key $0.0220 support level and tested $0.0210. The next main support is at $0.0200, where buyers might take a stand.
Cardano price performed well and remained in a positive zone above the $0.0440 and $0.0450 support levels. However, ADA price is facing a strong resistance near the $0.0475 level, which may result in a short term bearish reaction in the near term.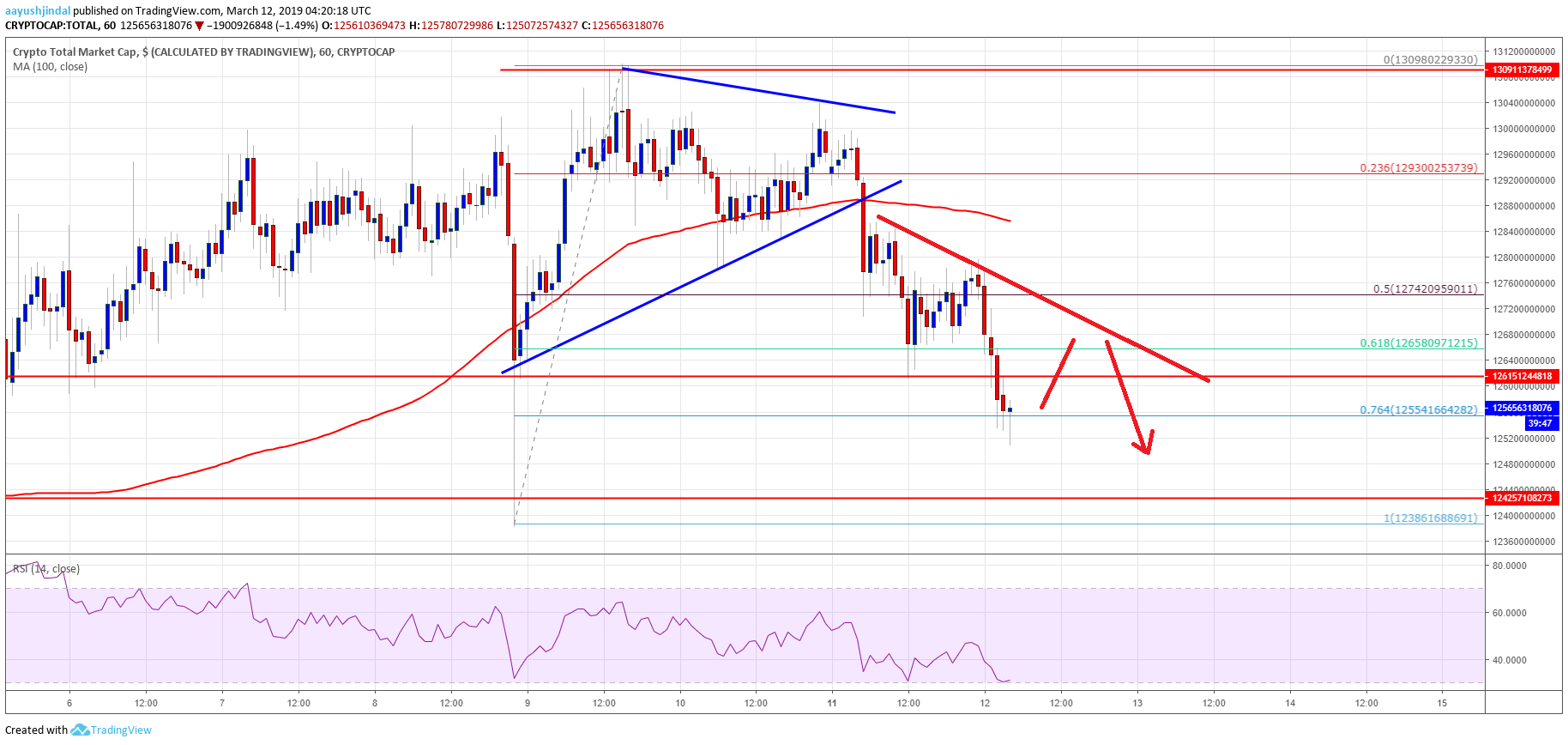 Looking at the total cryptocurrency market cap hourly chart, there was a failure to break the $130.0B resistance level. The market cap started a downward move and broke the $128.0B and $126.0B support levels. There was also a break below a contracting triangle with support at $128.0B on the same chart. It tested the $125.0B support and currently consolidating in a range. In the short term, there could be an upside correction, but the $128.0B and $130.0B levels are likely to prevent gains. Therefore, upsides in bitcoin, ETH, XRP, TRX, ADA, bitcoin cash, litecoin, EOS, stellar, IOTA and other altcoins are likely to remain capped in the coming sessions.
The post Crypto Market Could Extend Losses: EOS, Bitcoin Cash, TRX, ADA Price Analysis appeared first on NewsBTC.
* First published on newsbtc.com