Bitcoin prices stable along the 20-day MA
Calgary based Bitcoin ATMs post huge losses after double-spending attacks
Transaction volumes low averaging 7.3k by Mar 12 close
Thieves steal $200k worth of Bitcoin in ATMs across seven Canadian cities. Nonetheless, prices are stable and above $3,500 meaning Bitcoin (BTC) buyers have a chance for $6,000.
Bitcoin Price Analysis
Fundamentals
By substituting speed and convenience over security and fund safety, four scammers-who clearly had requisite technical expertise to pull off such a heist-found a gap and made away with $200k worth of Bitcoin from several Bitcoin ATMs spread across seven Canadian cities. Redeemed for cash, police are now on their trail.
The theft is an indication of how malicious elements are maturing, increasing in sophistication and keeping up with new trends. At the same time, it's a sounding alarm of why ATM manufacturers like Genesis and CoinSource should step up, implement appropriate solutions that tackle risks associated with zero-confirmation transactions thereby shielding ordinary enthusiasts keen on exploring and even experimenting on Bitcoin.
Note that a small percentage knows what Bitcoin is and the number of those who know how they operate is even lower. Although zero-confirm transactions are fast and accepted by some merchants, it can be disastrous for a merchant's balance sheet if these transactions are reversed in an RBF or via double spending with higher fees. In this case, what is unsettling is the ease execution reported to be in days across seven cities.
Candlestick Arrangement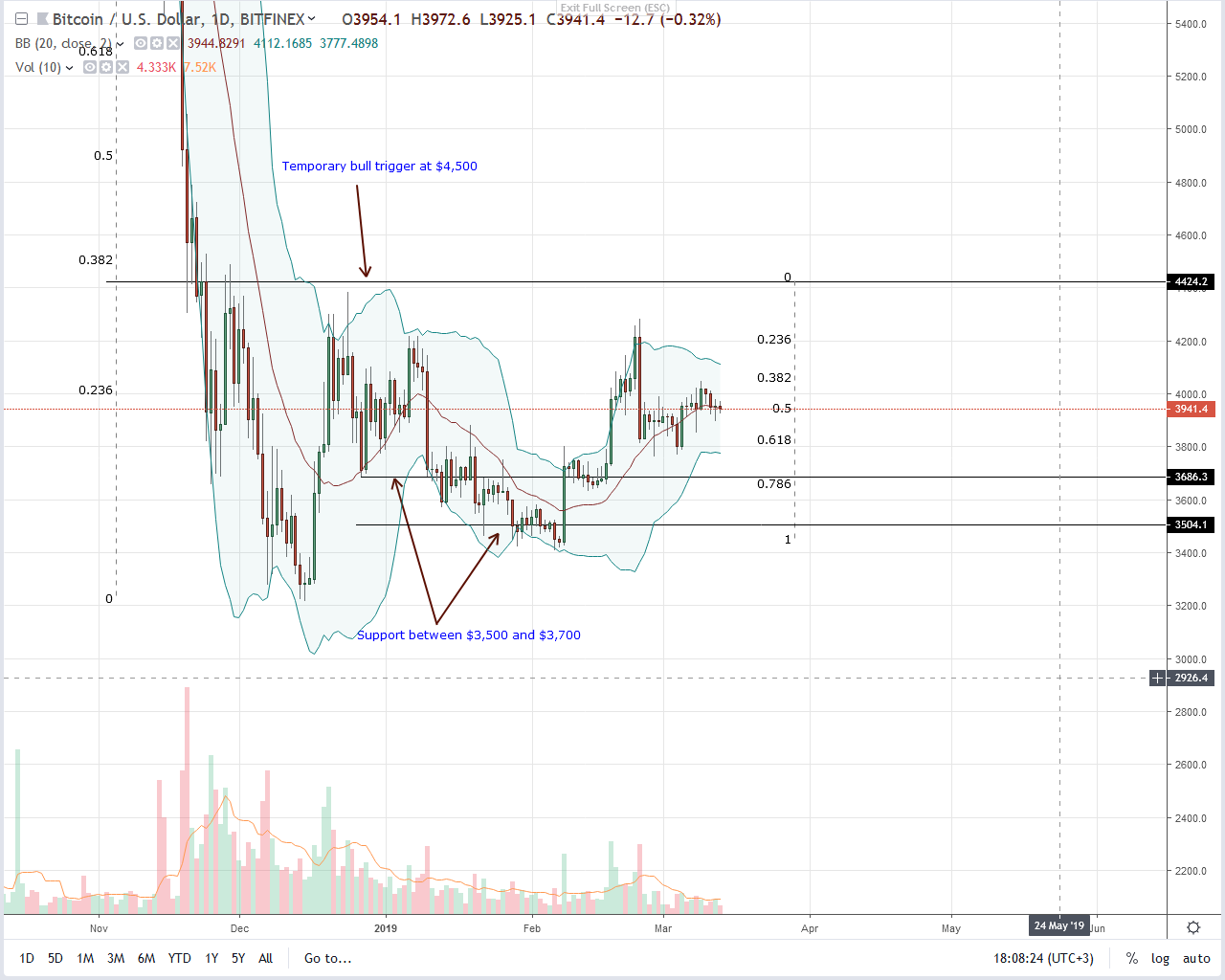 At the time of writing, Bitcoin (BTC) is trending along last week's close with no visible gains thus far. Even though we are bullish on the coin, the failure of bulls to close above $4,000 points to underlying weakness.
All the same, we shall maintain an upbeat overview. In a breakout pattern, aggressive traders should be fine-tuning entries in lower time frames as long as prices are trading above $3,500.
Meanwhile, we shall interpret recent consolidation as bullish. Consequently, we expect confirmation of Mar 4-5 double bar bull reversal pattern as prices rally towards $4,500.
Technical Indicators
On average, participation levels are low, averaging 7.3k by yesterday's close. As mentioned above, buyers will be in control if there is a confirmation of buy pressure of Mar4-5. For control, there should be high transaction levels– printing above 10k of Mar 5 and if possible—and ideal—above 40k, helping draw demand helping bulls push prices higher.
The post Bitcoin (BTC) On Demand, ATM Double Spending Scare appeared first on NewsBTC.
* First published on newsbtc.com