In his recent interview with CNBC, America's most successful capitalist Warren Buffett reiterated his negative stance on bitcoin.
The legendary investor told Becky Quick that bitcoin was a delusional asset which "attracts charlatans," adding:
"If you do something phony by going out and selling yo-yos or something, there's no money in it — but when you get into Wall Street, there's huge money."
The comments didn't surprise. Buffett has already made a name of himself for being a staunch bitcoin critic. Last year, at the Woodstock of Capitalism, Buffett and his sidekick Charles Munger gathered to talk investing and ended up providing one of the most reference quotes on bitcoin. Buffett warned that cryptocurrencies like bitcoin would come to a bad end, while Munger called them a "dementia."
[youtube https://www.youtube.com/watch?v=m4vDTAelhCM?feature=oembed&w=1778&h=1000]
However, this time, Buffett, in particular, tried to kick the bitcoin fans below their belts, by calling them frauds. It was certainly not going to go well among the white suits who primarily invested in bitcoin. Barry Silbert, Founder, and CEO of Digital Currency Group, for instance, took potshots at Buffett for investing in a firm named in multi-billion dollar frauds.
"Wells Fargo, a Buffett investment, has been fined 93 times for fraud and other abuses, for a total of $14.8 billion in fines since just 2000," wrote Silbert. "I'll take bitcoin's "charlatans" over that any day."
Wells Fargo, a Buffett investment, has been fined 93 times for fraud and other abuses, for a total of $14.8 billion in fines since just 2000

I'll take bitcoin's "charlatans" over that any day https://t.co/9OZkzxgQ7x

— Barry Silbert (@barrysilbert) March 9, 2019
The fines make roughly 20-percent of the Bitcoin's market capitalization.
A Hypocritic Capitalist
A brilliant investor that he had become, Warren Buffett cannot let go of his past full of shady insider deals. In retrospective, his father was a stock market broker and a congressman. These are the only people who could trade on insider information without having to deal with criminal charges. Buffett spent a gala time in his father's office learning about stocks and eventually bought his first shares at the age of 11.
By the time Buffett had come of age, he was already investing in firms suspected in financial frauds. His tales about Goldman Sachs fraud and what he did to bail himself and his company, Berkshire Hathaway, out would take a separate article to explain. But the case explained what power and money – and a handful of good connections – can do. (To know further about it, I would recommend you read this article.)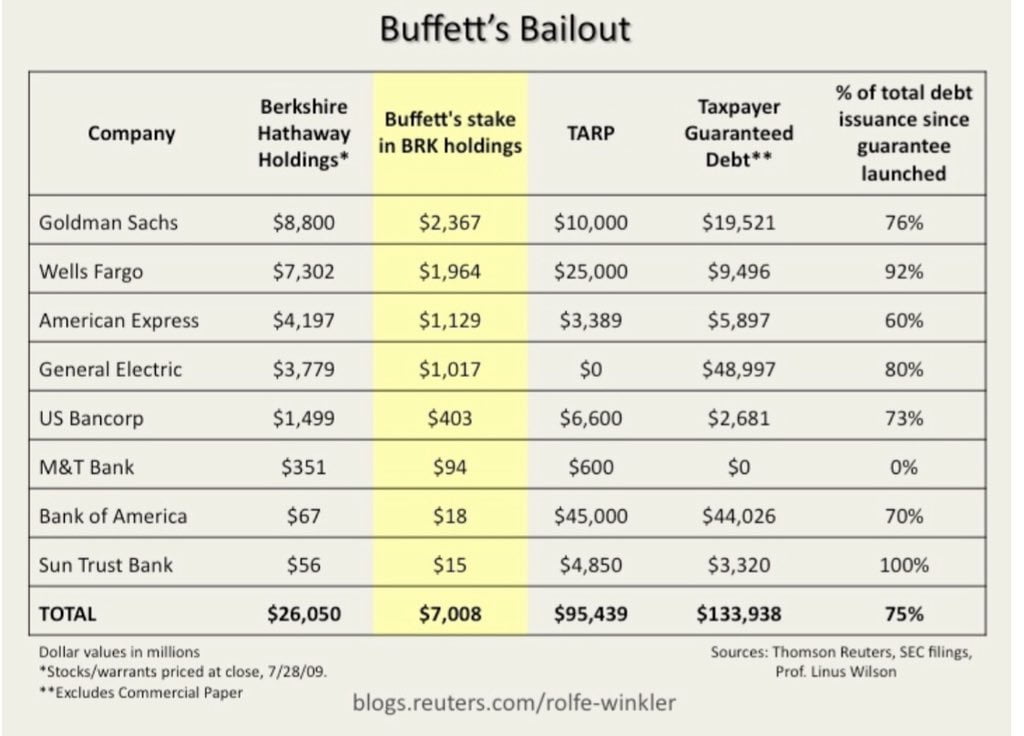 Source: Reuters
And indeed, Buffett is 90% brilliant because of his political connections. The US government seeks his help while making their bailout decisions. And when an investor of such caliber gets firsthand information about the billions of dollars in bailout money coming to Bank of America and Wells Fargo before anyone else, then it is likely he buys millions of share in both the firms at a cheaper rate to sell them a few years later at a higher price.
Did Warren Buffett think about working with charlatans, then? No. It shows the hypocrisy.
Why Does Buffett Hate Bitcoin?
Warren Buffett is 88. One cannot expect him to understand the complex nature of cryptocurrencies, the Merkle trees, the proof-of-work, and whatnot. He is the same person who missed on Apple earnings as late as 2011. Instead, Berkshire invested $10 billion in IBM, thinking it was a superior firm at that time. As the world already knows, Buffet's firm exited IBM on a substantial loss. At the same time, Apple's stock value had quadrupled.
As a crypto believer, I do not expect him to understand bitcoin in his remaining life. For the very same reason, his opinions have to stop mattering to young investors, the denizens, who understands how the bitcoin's underlying tech works. But to say they are charlatans brings me to quote British economist John Maynard Keynes:
"Capitalism is the astounding belief that the most wickedest of men will do the most wickedest of things for the greatest good of everyone."
Like they will.
[Disclaimer: The opinions discussed in this article are of the author. NewsBTC does not claim any responsibility for errors/claims made in the article.]
The post Wells Fargo, Warren Buffett's Investment, Paid 20% of Bitcoin Market Cap in Fines appeared first on NewsBTC.
* First published on newsbtc.com