Ripple prices trending within a bull breakout after closing above 34 cents
Banks are hesitant to adopt xRapid and instead use xCurrent
No doubt, Ripple Inc is proposing a novel and livelihood lifting idea that stands to shape remittance. However, with incumbents holding their ground, revamping their systems and plugging leakages, Ripple has much ground to cover. As they do so, Ripple (XRP) bulls are back and likely to close above 40 cents by mid-next week.
Ripple Price Analysis
Fundamentals
The global payment and financial landscape are unrivaled when it comes to testing new systems. They are cautious, and all they need are solutions that are secure beyond "any reasonable doubt." Unfortunately, though, they are plagued by scandals and continue to soak in heavy fines especially from US and European regulators. The latest mega bank was Swedbank whose CEO had to face the sack because of the institution's involvement in a money laundering scandal unnecessarily heaping pressure on their operations.
Regardless, while they are the main cog in global finance steadying economies, their failure to test new systems as Ripple's solutions don't make sense. As a real-time, global payment system, Ripple proposal is to replace SWIFT, an age-old messaging network that until recently, in the face of competition was unwilling to innovate and reduce lag time.
A handful of banks are part of the Ripple network with most utilizing xCurrent, an enterprise-grade solution that allows instantaneous settlement and end to end encryption of transaction between member banks. However, investors are tracking adoption of xRapid. Mired by regulatory challenges, once there's clarification from the US, it would be all systems go.
Candlestick Arrangements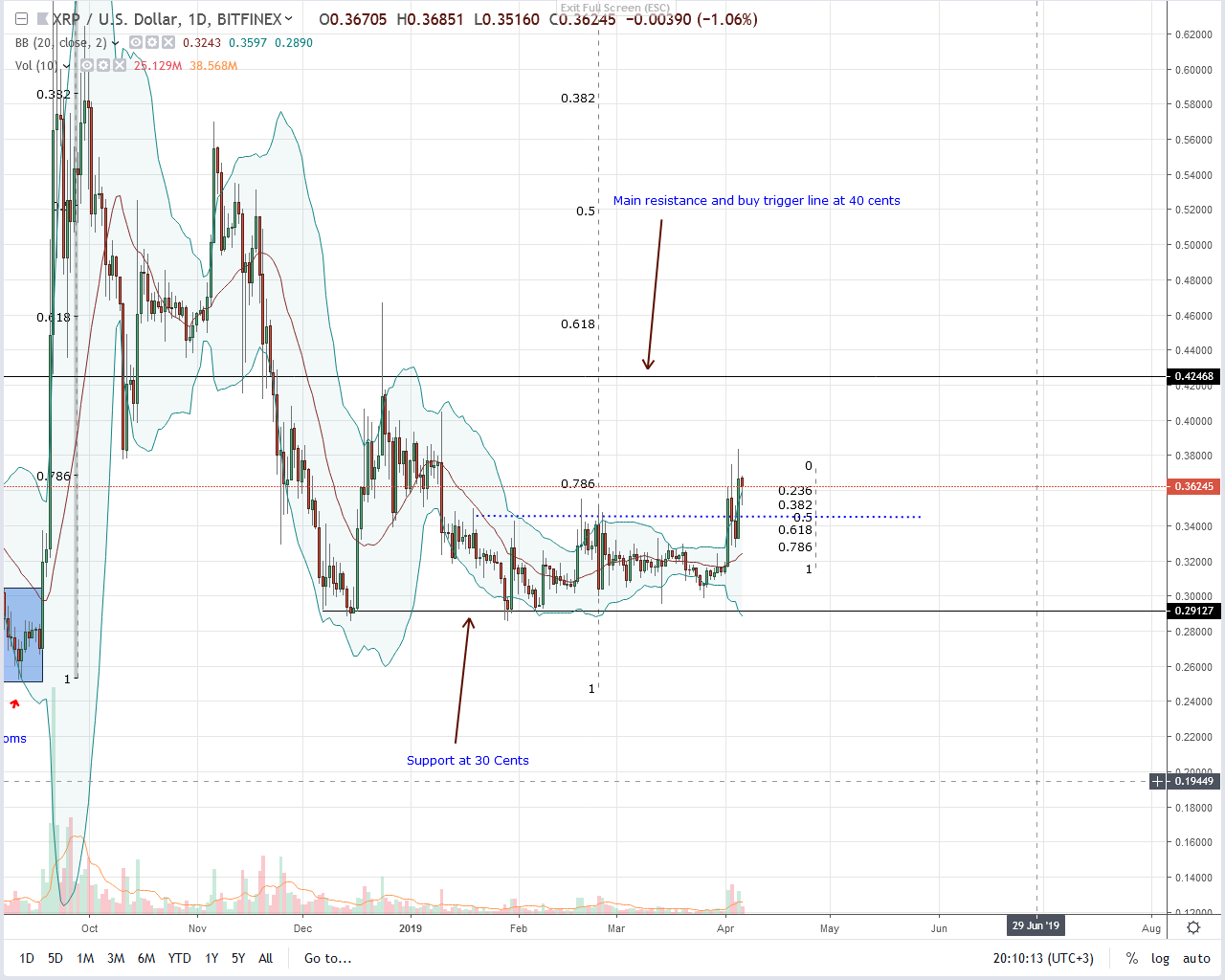 At spot rate, Ripple (XRP) bulls are back and trading above 34 cents, our buy trigger line. That means, in line with our XRP/USD trade plans, buyers are in control now that today's bar has a long lower wick and low resistance. As a result, risk-off and aggressive traders should look for entry opportunities in lower time frames.
According to our previous iterations, the only time risk-averse traders would be in control is when there is a satisfactory and comprehensive close above 40 cents, our next main liquidation level that has been capping gains in the last four months.
Therefore, as mentioned, the minor break above the 61.8 percent Fibonacci retracement level places our first target at 40 cents. That's unless there is a counter bar wiping out gains of Apr 5 pinning back bulls to a 4 cents trade range.
Technical Indicators
Trade volumes are picking up and reflecting this observation is increasing volatility, and XRP bull bars banding along the upper BB. Since Ripple (XRP) is trading within a minor bull breakout after closing above 34 cents, participation is likely to pick up. That means any break above 40 cents would most likely be from a full ranging bar whose volumes exceed Apr 2's 79 million. If that is the case odds are XRP will rally towards 60 cents and 80 cents.
Chart courtesy of Trading View
The post There's No Upside Resistance, Ripple (XRP) Bulls Aiming At 40 Cents appeared first on NewsBTC.
* First published on newsbtc.com