Ripple price steady, likely to find support at 30 cents
Jed McCaleb wallets are dormant, yet to sell XRP from Jan 11, 2019
Transactional volumes low, pump possible
Unless there is a collapse below 30 cents, XRP bulls are in control. We expect that to be the case as long as there is increase supply thanks to Jed's easing off from XRP dumps.
Ripple Price Analysis
Fundamentals
There are two things you should know about Jed McCaleb. Aside from being the founder of the Stellar Foundation, he is also one of the co-founders of Ripple Labs. That's the official company behind XRP, the digital asset that Ripple Inc owns a majority.
Because of the sheer amount of coins at his disposal and his interest away from XRP, there is a binding interest between Jed McCaleb and Ripple. Behind this agreement which Jed must comply with is the need to protect XRP against price dumps.
Ripple and Jed have been pretty much on the same page until recently when it was observed that Jed was selling coins through his family members exceeding daily thresholds. As a result of this breach, new terms formulated. With new terms, XRP liquidation is via a Charity DAF of his choice.
It is through this fund that he was allowed to sell 0.5 percent of the average daily amount of XRP in the first year. That amount would increase to 0.75 percent in the second and third years and finally one percent in the fourth year. It is a practical approach, but it appears that Jed McCaleb XRP wallets are dormant:
The Jed account that was selling 1m+ $XRP per day stopped selling on January 11. The other wallets are also inactive, for now.

These sales have been going on since April 15th, 2016.
Will this last and is there something behind it?#XRPcommunity @Ripple https://t.co/AnZUQoYYnC pic.twitter.com/5FT2b6uIGr

— Leonidas (@LeoHadjiloizou) February 4, 2019
Candlestick arrangements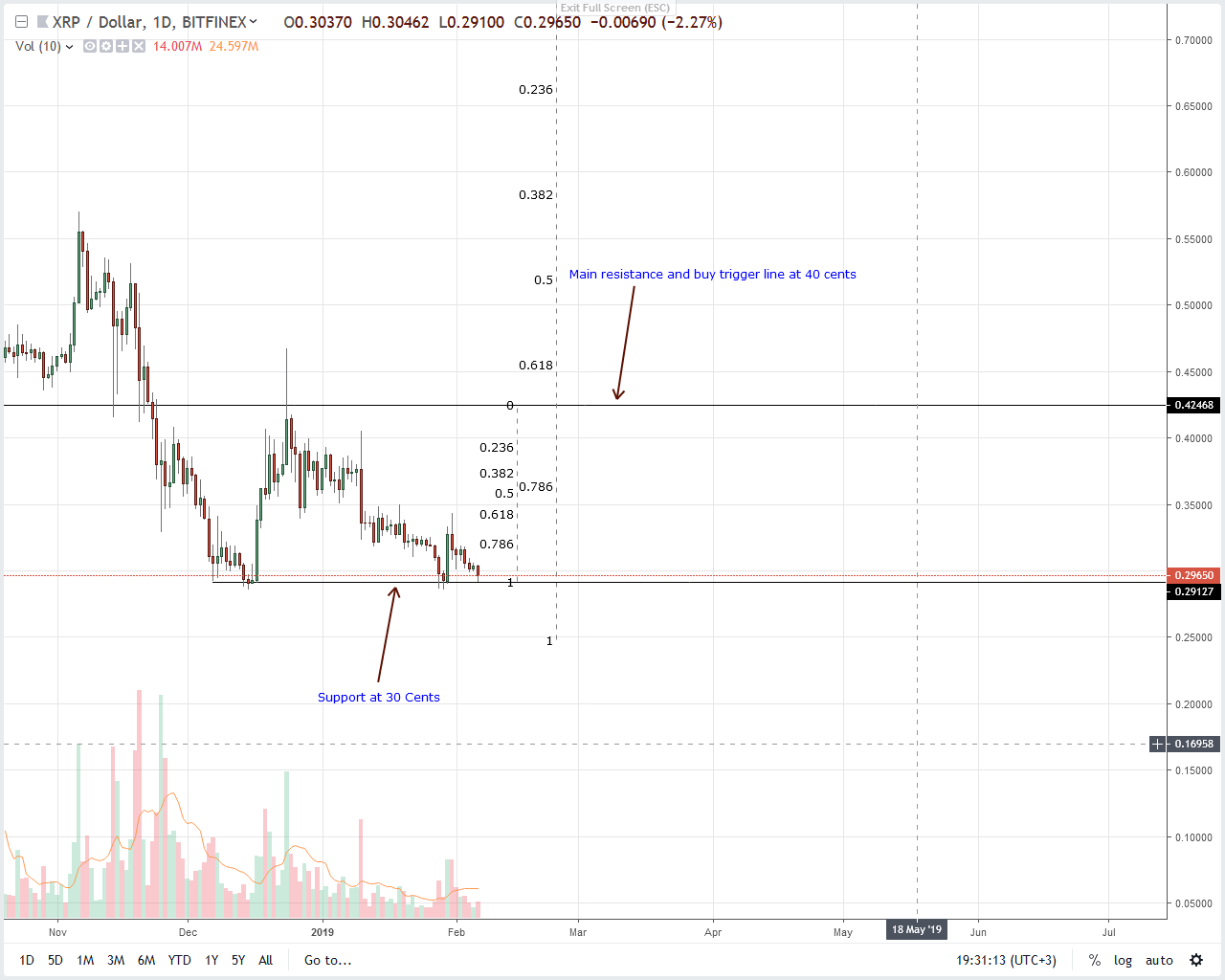 At spot rates, XRP is changing hands at roughly 30 cents. That's right at the periphery marking Jan 2019 lows and the bases of Jan 30 bullish bar. From our iteration, we note that Jan 30 bar is a critical guiding bar in our Ripple price analysis and as long as bears fail t satisfactorily wipe out those gains, bulls are in control.
We shall continue to hold this stance until when XRP prices melt below 30 cents ushering in short-term bears aiming at 25 cents. On the reverse side, buyers would be in charge if we see an uptick driving prices above its highs at 32 cents complete with high trade volumes. Our minor buy triggers are at 34 cents.
Technical Indicators
Like above, buyers are technically in charge. In an effort versus result approach, the failure of bears to wipe out Jan 30's bull bar—49 million versus 17 million, six days after it printed is bullish. However, for clear trend resumption as set out by late Dec 2018 gains, upswings must be pumped by above average volumes exceeding 17 million and 49 million.
The post Ripple Price Analysis: XRP Price Action Points at Bulls appeared first on NewsBTC.
* First published on newsbtc.com