Since the parabolic rally of Bitcoin in 2017 has unwound itself, investors have sought to predict future market predictions through rational analysis, rather than dreams of Lamborghinis and wads of cash.
In a bid to do just that, many traders have begun to weigh historical trends against those seen today, determining that there's a possibility that Bitcoin (BTC) and the rest of the cryptocurrency market is ready to step into spring.
Bitcoin May Have Finally Bottomed
Under the Rhythm Trader handle, prominent trader Alec Ziupsnys and his team recently drew attention to the eerie lines that can be drawn between 2014 to 2016's market cycle and the one seen today.
Ziupsnys, who has risen to prominence for incessantly touting the merits of Bitcoin over centralized financial institutions, noted that if BTC truly follows a multi-year cycle of boom and busts, there's a likelihood that the cryptocurrency has already bottomed.
History doesn't repeat itself but it often rhymes.$BTC in 2014 price vs current price. pic.twitter.com/2tlgvh6z7j

— Rhythm Trader (@Rhythmtrader) March 14, 2019
By the same token, Rhythm Trader explains that if a long-term floor has been established and market cycles are followed to a tee, BTC could begin to slowly but consistently move higher, eventually establishing in a new all-time high in early-2021.
The only notable difference between the two charts is the volume profiles. As explained by Max Kordek of Lisk, Ledger's Pascal Gauthier, Tron CEO Justin Sun, and a handful of other industry leaders to NewsBTC, the nuclear winter of 2015 led many investors to lose all faith in BTC, leading to the effective collapse of market liquidity.
Now, however, there remains a healthy amount of interest in this budding market, despite the 80% drawdown.
The fact that there is still a solid level of trading activity in itself has led The Crypto Dog, Mati Greenspan, and other analysts to claim that more likely than not, the drastic sell-offs are close to biting the dust.
Yet, there's a large, ground-breaking caveat here. Industry research group Crypto Integrity has revealed that it believes upwards of 88% of all volumes seen on sites like Coin Market Cap could be entirely fraudulent.
The consortium, which is focused on eliminating fraud in this nascent space, cites an algorithm that is created to distinguish fake from real volumes.
But it is unclear whether the presence of copious levels of fake volume will slow BTC from embarking on a long-term recovery to and past its $20,000 all-time high.
But Couldn't Bitcoin Still See Lower Lows?
While the stage could very well be set for Bitcoin to slowly grind higher, other fractal sets have indicated that lower lows could very well be in the cards.
Trader Jonny Moe drew attention to why there's a likelihood, albeit somewhat fleeting, that BTC could make a move under $3,200 in the coming months.
To back his pseudo-forecast, he draws attention to the cryptocurrency's trend in early-2018. During this time, Bitcoin failed to break out of an inverse head and shoulders pattern, before breaking under an Adam and Eve double bottom pattern a few months later.
I want to be bullish. I really do. But I have to ask myself, what if we're wrong?

Please, tell me I'm just in disbelief.$BTC pic.twitter.com/Y8pQwEviiu

— Jonny Moe (@JonnyMoeTrades) March 14, 2019
As he depicted in his chart above, BTC recently underwent the same pattern. Much like before, the cryptocurrency failed to break past a short-term downtrend twice, before going on to not rebound off an Adam and Eve bottoming sequence.
Further giving credence to his thought process that a sub-$3,000 Bitcoin isn't as zany as optimists think, Jonny laid out what he called a "bear look," which built off his previous model of failed rebounds and triangles. The so-called "bear look" can be found below.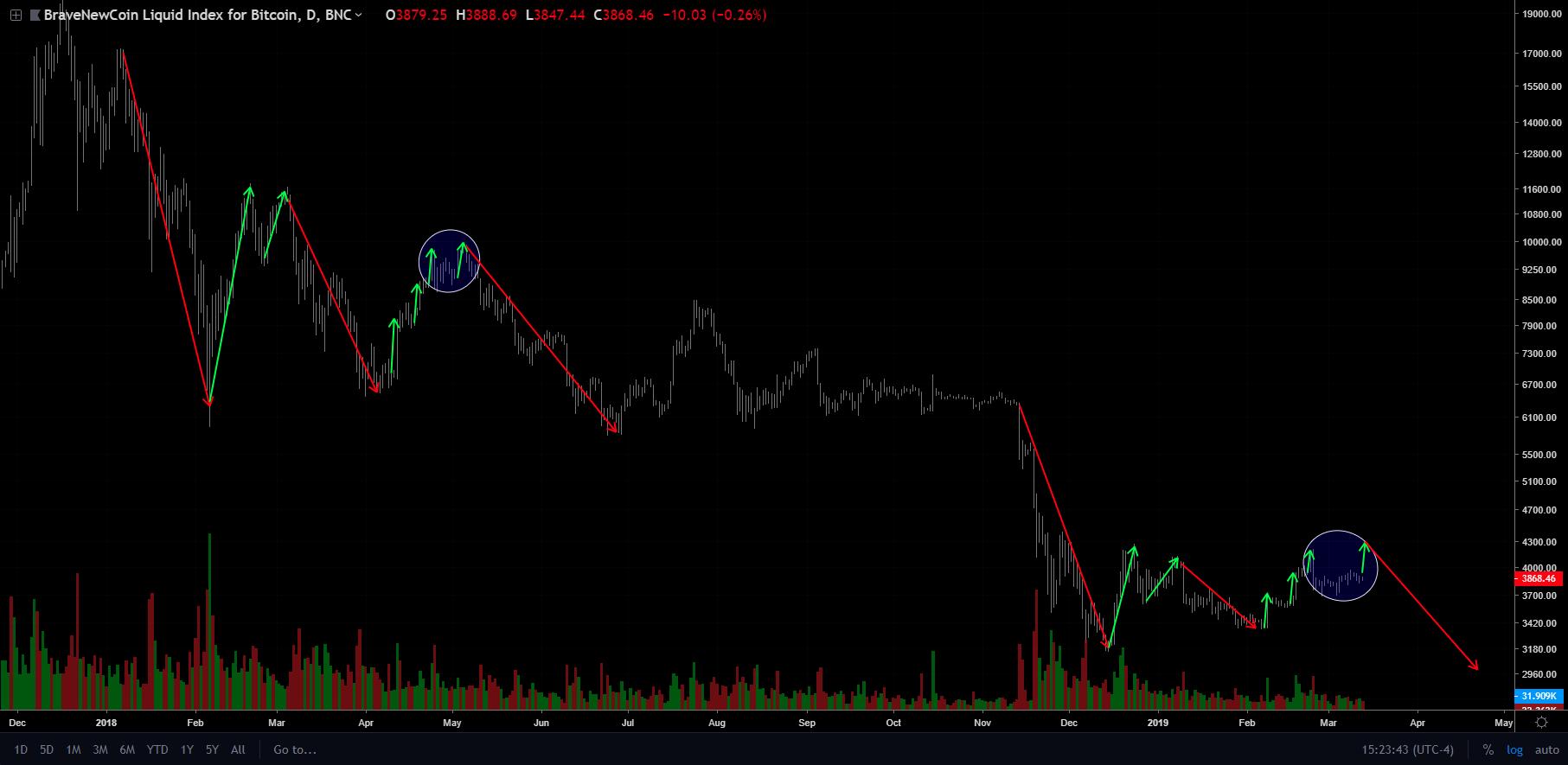 If historical trends are followed, this would mean that heading into mid-2019, Bitcoin and the asset class at large will likely begin a slow descent to God knows where.
Jonny is far from the first to claim that patterns that appeared sell-offs seen in 2018's downturn are showing their faces yet again, setting a precedent for cryptocurrencies to lose their footing once again.
NewsBTC recently reports that Moon Overlord, a trader that commands the eyes and ears of thousands across Twitter, recently explained that there are similarities between the market movements seen before November's rapid sell-off and the lull seen in today's market.
The analyst didn't issue an explicit prediction, but it was heavily implied that a strong move under $3,000 would make sense if BTC completes previous patterns.
Featured Image from Shutterstock
The post If History Rhymes, Bitcoin Could Revisit $20,000 By Early-2021 appeared first on NewsBTC.
* First published on newsbtc.com