Bitcoin prices on an uptrend, add 23.9 percent
Analysts confirm Bitcoin whales ramping up
Sid Shekhar of TokenAnalyst now confirms that indeed Apr 2 momentum shifting bull bar was fueled by heavyweights. With that, bulls are back, and Bitcoin (BTC) is firm above $4,500, adding 23.9 percent from last week's close.
Bitcoin Price Analysis
Fundamentals
True, Apr 2 bull bar did rouse participation, and we can authoritatively say the spike did shift market sentiment. However, the inexplicable surge is what remains mysterious to many. Before this, the Bitcoin and cryptocurrency market, in general, was calm, trending within tight ranges. In fact, from the chart, Bitcoin prices were trending within a $1,300 trade range, held within that consolidation for the last three months before early this week's burst and close above $4,500.
Experts are still speculating, but the most viable explanation is a visible spike in the number of active BTC wallets from end March. Complementing that was analysts finding that on Apr 2, several whales simultaneously jumped in, tipping the scale and a chain reaction crashing stops and sparking a surge up was a cause.
As reported before, a $100 million long position spread across three exchanges is the closest thing explaining this miraculous recovery in a market where everyone was expecting the US SEC to approve Bitwise's Bitcoin ETF application. Here's what Sid Shekhar, the co-founder of TokenAnalyst, observed:
"We were able to see some of this stuff before it happened. We saw a few large whale movements of funds, then a concerted inflow into multiple exchanges from whale wallets, and then we were seeing a virtuous cycle. The whales didn't move it all by themselves, but they were the first domino. As soon as that first domino fell, we saw a bunch of programmatic action based on momentum, which led to more and more price action."
Candlestick Arrangements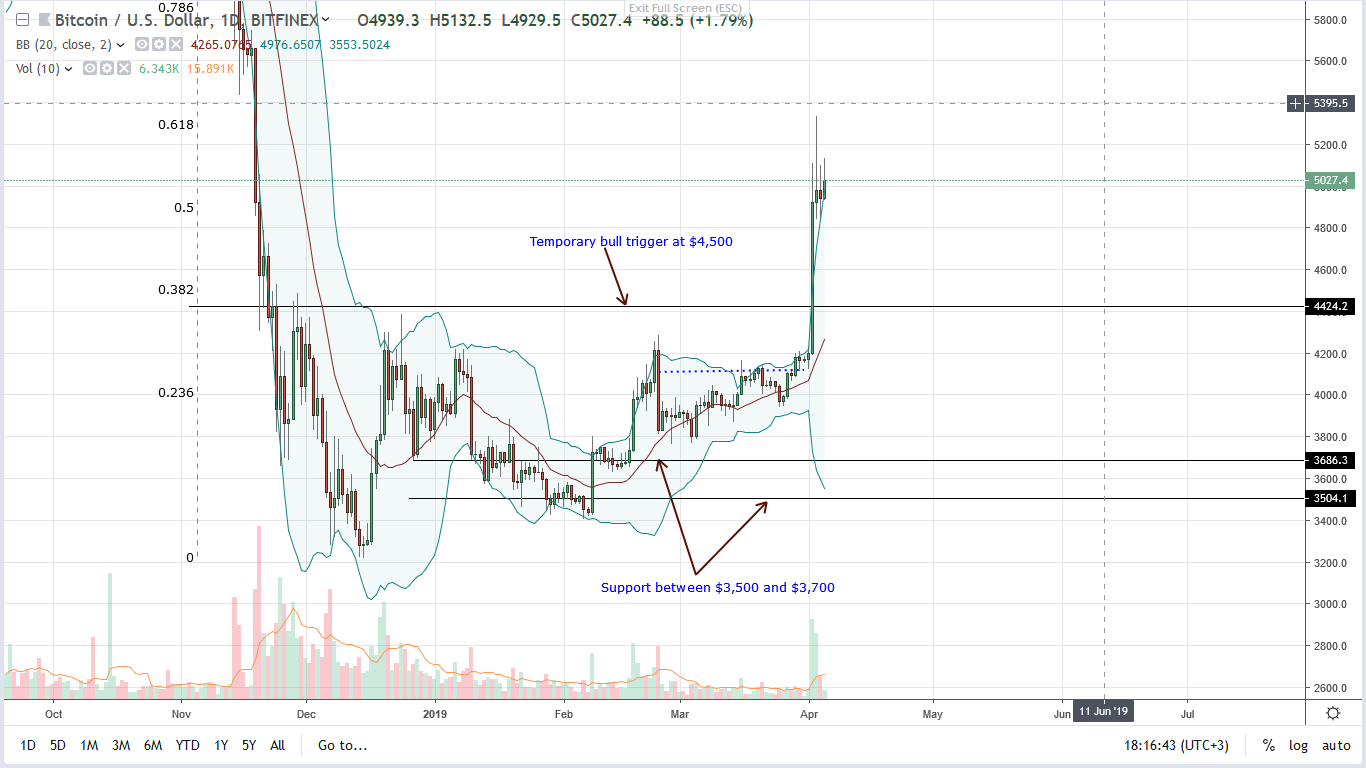 At the time of press, Bitcoin (BTC) is up 23.9 percent from last week's close with a market cap of $87,964 million. That means buyers are firmly in control meshing with our previous BTC/USD trade plan, traders should fine-tune entries in the 4HR chart or lower—and that's regardless of if there is a correction—as long as prices are above $4,500.
With that, the first target should be the lower limit of our resistance range at $5,800. Notice that upward momentum is high and the failure of prices to dip hints of strong hands supporting prices and maintaining bull bars along the upper BB.
Technical Indicators
Volumes are dipping, but the overall momentum as mentioned above is bullish. However, should there be a counter bar driving prices below $4,700 in a correction, accompanying volumes should be low below Apr 2 bull bar with 54k.
Chart courtesy of Trading View
The post If Bitcoin (BTC) Prices Are In a "Virtuous Cycle", Is $12,000 Near? appeared first on NewsBTC.
* First published on newsbtc.com