The total crypto market cap failed again to clear the $178.5B resistance and declined recently.
Binance coin (BNB) price is down around 4% and it could test the $17.40 support level.
Litecoin (LTC) price is slowly moving lower and it may revisit the $82 support area.
Bitcoin cash price retreated from the $300 resistance and it tested the $285 support area.
Tron (TRX) price is down more than 7% and it is approaching the $0.0270 support level.
The crypto market corrected lower recently, with bearish moves in bitcoin (BTC) and Ethereum (ETH). Litecoin, ripple, bitcoin cash, TRX, XLM and EOS are correcting lower towards supports.
Bitcoin Cash Price Analysis
Bitcoin cash price revisited the $300 resistance area recently against the US Dollar. The BCH/USD pair faced a strong selling interest near $300 and later started a downside correction. It declined below the $290 support and tested the $285 support.
The next key supports are at $280 and $282, where buyers are likely to take a stand. On the upside, the previous support near $295 may act as a solid resistance, followed by $300.
Binance Coin (BNB), Litecoin (LTC) and Tron (TRX) Price Analysis
Binance coin (BNB) price remained confined in a range below the $18.50 resistance. Recently, BNB price faced an increase in selling pressure, resulting in a downside reaction below the $18.00 support. The price is currently trading near $17.70 and it may continue to drop towards the $17.50 and $17.40 support levels. On the upside, the main resistances are $18.00 and $18.50.
Litecoin price struggled to stay above the $90.00 support and it recently corrected lower. LTC price is down around 3% and it may continue to move down towards the $82.00 support level. The main support is at $80.00, below which the price may head towards the $75.00 support area.
Tron price failed to settle above the $0.0300 resistance level and it recently declined sharply. TRX price is down more than 7% and it broke the $0.0285 and $0.0280 support levels. The next support is at $0.0270 level, where buyers are likely to appear.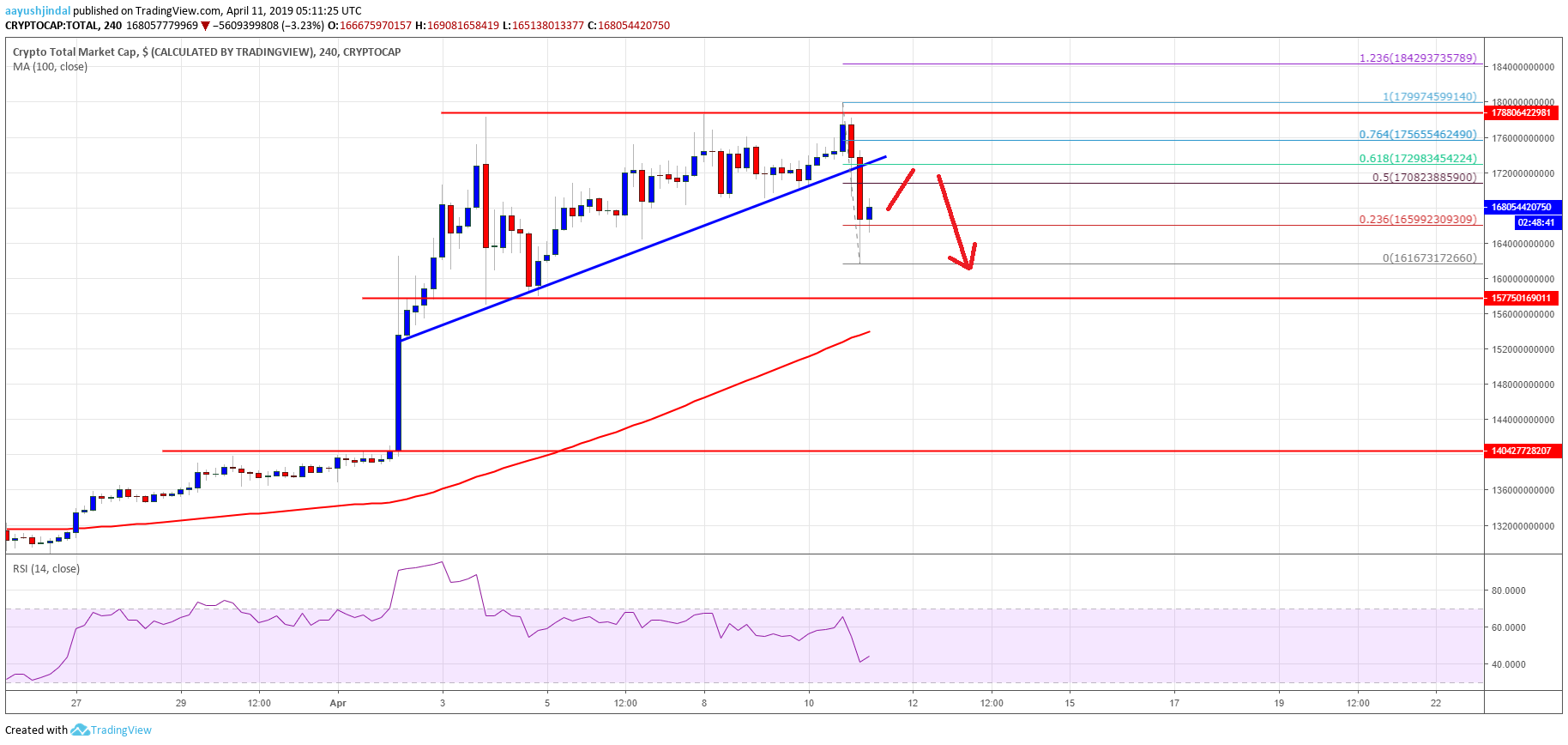 Looking at the total cryptocurrency market cap hourly chart, there was another attempt to surpass the $178.5B resistance level. The market cap failed to stay above $178.5B, formed a high at $179.9B and later declined sharply. It broke the $172.0B support area and a connecting bullish trend line on the same chart. It has opened the doors for more downsides towards the $160.0B support area. However, there are many supports on the downside, which is why bitcoin, Ethereum, EOS, litecoin, ripple, BNB, BCH, TRX, ICX, XLM and other altcoins are likely to bounce back in the near term.
The post Crypto Market Starts Corrective Decrease: Litecoin, Bitcoin Cash, TRX, BNB Analysis appeared first on NewsBTC.
* First published on newsbtc.com