The total crypto market cap is currently above the key $160.0B support area.
Litecoin (LTC) price is down more than 5% and it recently broke the $80.00 support zone.
Bitcoin cash price performed really well after BSV was delisted from binance.
EOS price failed to hold gains and traded below the $5.45 and $5.40 support levels.
Stellar (XLM) price is correcting lower and it is likely to test the $0.1100 support area.
The crypto market cap is near a crucial support near $160.0B, If its holds, there could be a rebound in bitcoin (BTC), Ethereum (ETH), litecoin, ripple, bitcoin cash, EOS, tron (TRX), stellar (XLM), and other altcoins.
Bitcoin Cash Price Analysis
Bitcoin cash price climbed higher recently and settled above the $300 support area against the US Dollar. The BCH/USD pair gained traction after a major cryptocurrency exchange, binance decided to delist bitcoin SV. There was a sharp upward move in BCH/USD and the price surged above the $310 level.
There are many positive signs on the charts and it seems like the price may continue to rise towards the $320 and $325 levels in the near term. On the downside, the main supports are $300 and $295.
Litecoin (LTC), EOS and Stellar (XLM) Price Analysis
Litecoin price struggled to gain momentum above the key $82 and $84 levels. LTC started a fresh downward move and broke the $80 support. The price is down more than 5% and it is currently trading near $78. If there are more losses, the price may revisit the $75 support area.
EOS price traded above the $5.40 level recently, but it failed to clear the $5.55 resistance area. As a result, there was a fresh decline and the price broke the $5.40 support area. The next key support is at $5.35, below which there is a risk of a push towards the $5.30 support area.
Stellar price remained in a bearish zone and it recently traded below the $0.1150 support level. XLM price is likely to extend the current decline towards the $0.1100 support area, where buyers are likely to emerge.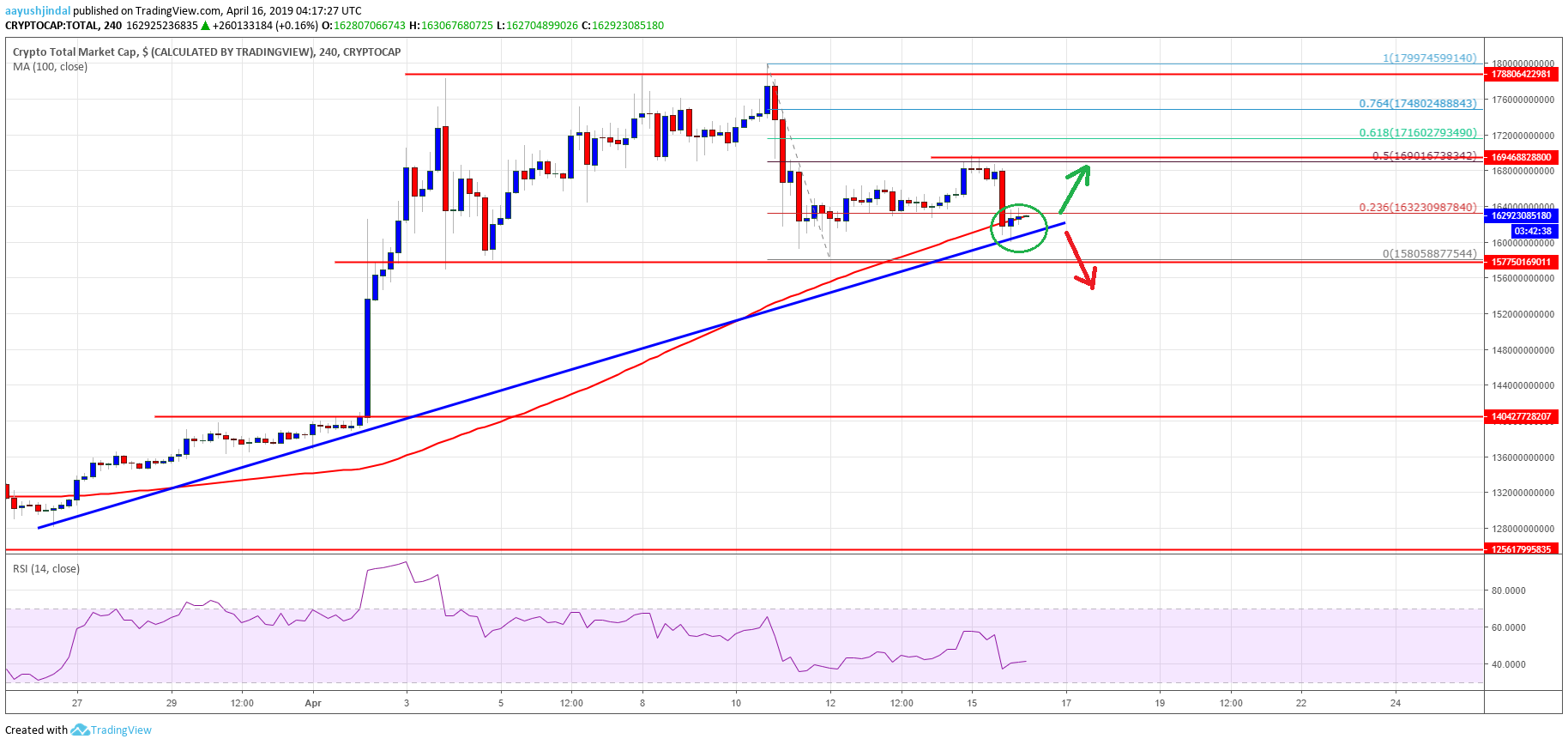 Looking at the total cryptocurrency market cap hourly chart, there was a decent recovery from the $158.0B and $160.0B support levels. The market cap climbed above the $165.0B level, but it failed to overcome the $170.0B resistance. There was a bearish reaction and the market cap declined towards the $160.0B support and a connecting bullish trend line. As long as the market cap is above the trend line and $158.0B, it could climb higher. Conversely, a downside break below $158.0B might increase selling pressure on bitcoin, Ethereum, EOS, litecoin, ripple, XLM, BCH, ADA, BNB, TRX and other altcoins in the coming sessions.
The post Crypto Market Near Decisive Support: Bitcoin Cash, Litecoin (LTC), EOS, XLM Analysis appeared first on NewsBTC.
* First published on newsbtc.com