The total crypto market cap is facing a lot of hurdles near the $126.0B and $128.0B resistances.
EOS price is currently consolidating above the $3.50 support and preparing for the next move.
Binance Coin (BNB) gained more than 10% and broke the $10.80 resistance area.
Bitcoin cash price is struggling below the $135 resistance level.
Tron (TRX) price broke the key $0.0240 support level to move further into a bearish zone.
The crypto market recovered nicely, but bitcoin (BTC) and Ethereum (ETH) faced many hurdles. However, Binance coin (BNB) rallied recently, while BCH, ripple, EOS, TRX and ADA traded in a range.
Bitcoin Cash Price Analysis
Bitcoin cash price failed to stay above the $135 support and declined recently against the US Dollar. The BCH/USD pair tested the $130 support level and late recovered. The price is currently trading above the $132 level, but it is facing a lot of hurdles near the $134 and $135 resistance levels.
If the price declines again, it could retest the $130 support. Any further losses could push the price towards the $126 and $125 support levels in the near term.
EOS, Tron (TRX) and BNB Price Analysis
EOS price trimmed its last week's gains and traded below the $2.80 and $2.65 support levels. It is currently consolidating above the $3.50 support level, with a minor bullish angle. Buyers need to break the $2.60 and $2.65 resistance levels to start a decent upward move. On the downside, a break below $3.50 might push the price towards $3.40.
Tron price is facing an increase in selling pressure below the $0.0250 support. TRX price recently broke the $0.0242 and $0.0240 support levels to move further into the bearish zone. The next key support is at $0.0235.
Binance coin (BNB) performed really well and broke the $10.20 and $10.50 resistance levels. BNB price even broke the $10.80 level recently and it seems like it could trade above the $11.00 barrier in the coming sessions. The next key resistance is at $11.20 and supports are $10.80 and $10.50.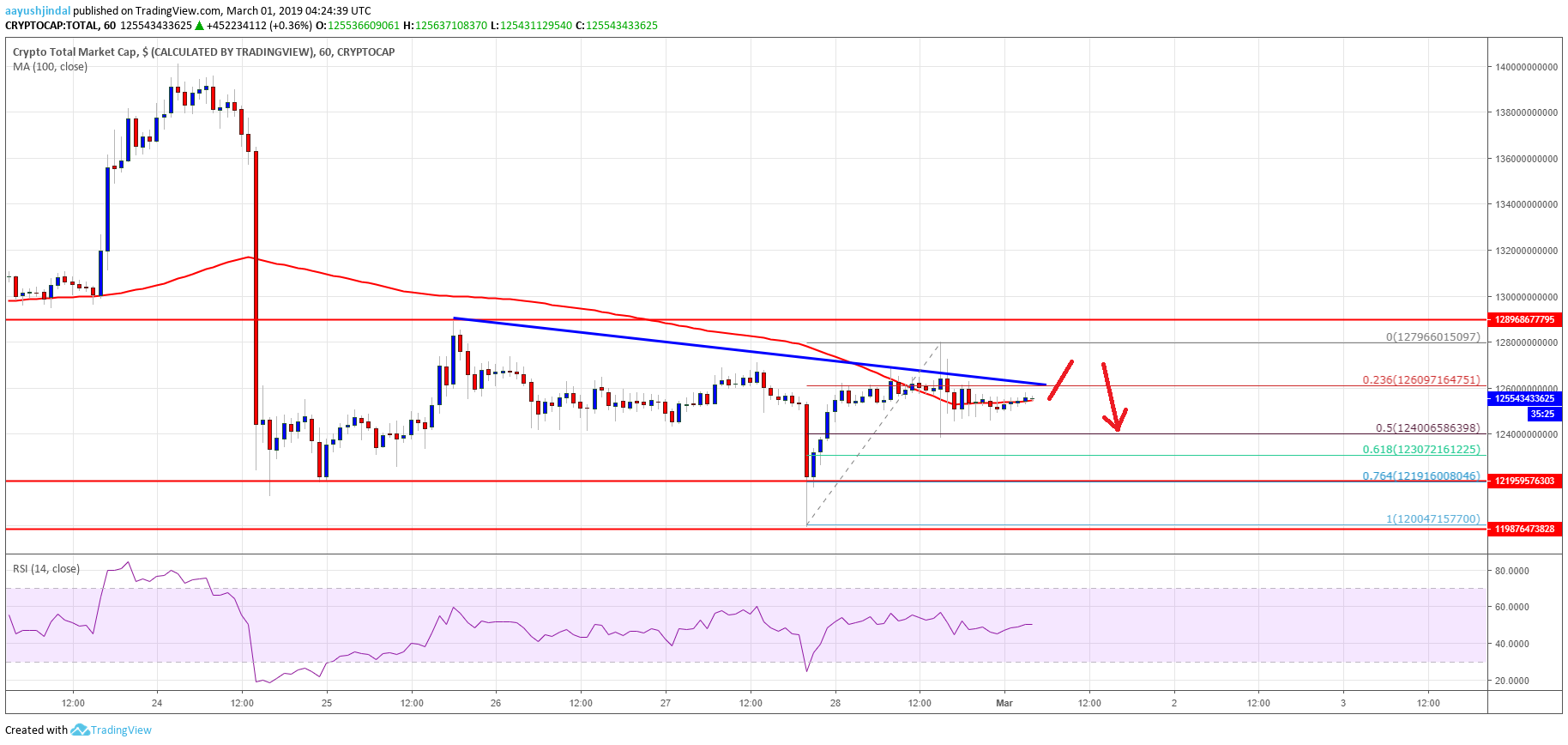 Looking at the total cryptocurrency market cap hourly chart, there was a sharp rebound from the $120.0B support level. The market cap moved above the $122.0B and $125.0B resistance levels. However, it faced a strong resistance near the $128.0B level and the 100 hourly simple moving average. There is also a bearish trend line with resistance at $126.0B on the same chart. A successful close above the $126.0B and $128.0B levels is must for buyers to gain traction. If there is an upside break, it could help bitcoin, ETH, tron, litecoin, EOS, ripple, ADA, stellar, BNB, BCH, XMR and other altcoins in the short term.
The post Crypto Market Facing Key Resistance: BNB Rallies, EOS, Bitcoin Cash, TRX Analysis appeared first on NewsBTC.
* First published on newsbtc.com