Cryptocurrency markets have been somewhat sideways for the last three weeks or so. Only a couple of cryptos have seen good enough gains to propel them up the market capitalization chart and Tron is one of them as it breaks the $2 billion barrier.
Tron Forging On, 60% Gains in a Week
At the time of writing Tron's TRX token is the best performing crypto asset in the top one hundred. With a 23% gain on the day it is surging up the market cap charts and has just taken eighth spot. Yesterday TRX daily volume doubled as it increased the gap away from the flailing Bitcoin SV. Today that volume has doubled again from $200 to $400 million.
A few hours ago Tron has just exceeded $2 billion market cap which makes it the eighth largest cryptocurrency in the world. Tron is currently trading at a five month high of $0.0320, a price not visited since the end of July last year. TRX is at its highest satoshi level since May 2018, currently trading at 790 sats.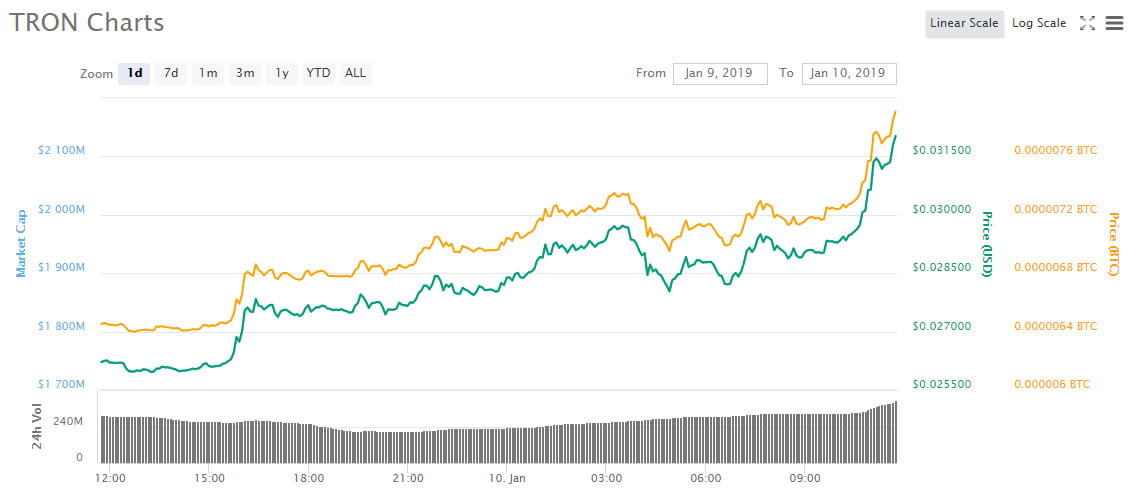 This increased market cap has placed TRX above Tether which has a fixed cap of $1.92 billion. Tron is currently on $2.13 billion at the time of writing and chasing down Litecoin just above it on $2.35 billion. The gap between Tron's current position and one in the top four is just $700 million.
Naturally Justin Sun had to gloat on twitter, but in all fairness his token is outperforming every other crypto in the top one hundred during the day's Asian trading session;
Who's next? #TRON $TRX $BTT pic.twitter.com/6cn3lUOnDz

— Justin Sun (@justinsuntron) January 9, 2019
Momentum is coming from a number of positive fundamentals including the progression of Project Atlas, BitTorrent's BTT token launch, increased gaming dApp usage as TronGoo takes top spot, OKEx launching TRX margin trading, and the hiring of a former United States SEC supervisory attorney as its first chief compliance officer.
This is all good gravy for Tron which has made an impressive 60% since the same time last Thursday, and 135% over the past month.
Elsewhere in the top ten the gap between second and third is diminishing again as Ethereum fails to hold gains allowing XRP to catch up. At the time of writing the two were only $450 million apart in terms of market cap. Cardano has also made good progress over the past week and is rapidly closing on Bitcoin SV which appears to have run out of steam and is about to exit the top ten.
Image from Shutterstock
The post Tron Breaks $2 Billion, Takes 8th Place Reaching 5 Month High appeared first on NewsBTC.
* First published on newsbtc.com