The total crypto market cap is likely preparing for an upside break above the $135.00B level.
EOS price is gaining momentum and it could soon break the $3.00 resistance.
Bitcoin cash price is trading above the $160 support area, with an immediate resistance at $165.
Tron (TRX) price rallied close to 20% and broke the $0.0300 resistance.
Cardano (ADA) price gained 8% and broke the $0.0500 resistance.
Tron (TRX) surged more than 20% recently and cleared the $0.0300 barrier. Bitcoin, BCH, Ethereum, and altcoins like EOS and Cardano (ADA) could gain further.
Bitcoin Cash Price Analysis
Bitcoin cash price is back above the $160 support area after a short term downside correction against the US Dollar. However, BCH/USD is facing a lot of hurdles on the upside, starting with $164 and $165. The main resistance on the upside is near the $170 level.
On the other hand, if there is a downside correction below $160, the price may decline towards the $155 level. The key support below $155 is near the $150 level.
EOS, Tron (TRX) and ADA Price Analysis
EOS price gained traction recently above the $2.80 resistance area. Buyers were successful in pushing the price above the $2.90 resistance as well. Going forward, the price may accelerate above the $3.00 barrier if buyers remain in action.
Tron was one of the best performers lately as it rallied more than 20% and broke the $0.0250 and $0.0280 resistance. More importantly, TRX price cleared the $0.0300 barrier and it may continue to move higher.
Cardano price gained more than 8% recently and broke the $0.0520 and $0.0540 resistance levels. ADA is now trading nicely above $0.0520 and it may even clear the $0.0550 resistance in the near term.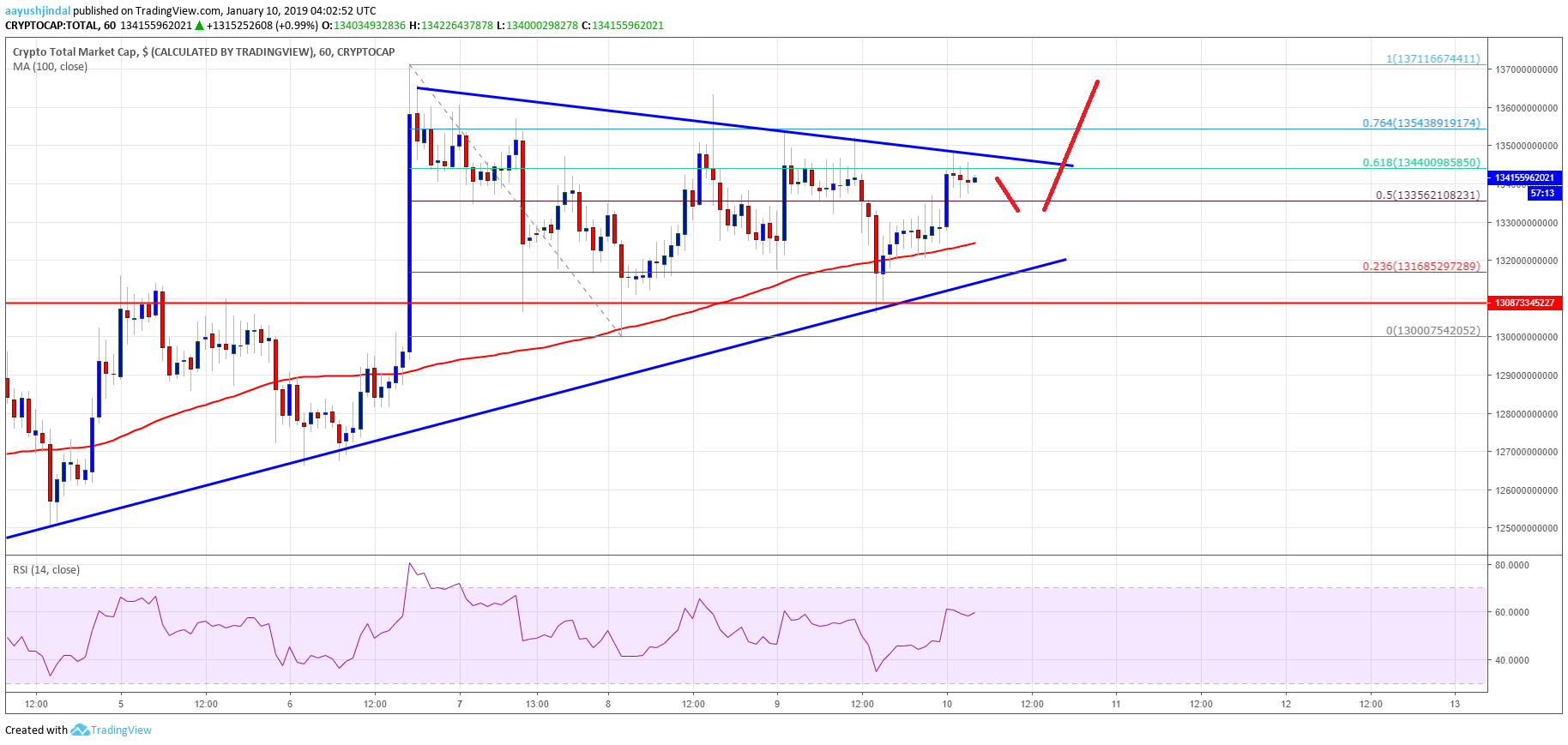 Looking at the total cryptocurrency market cap hourly chart, there is a strong support formed near the $132.00B level. More importantly, it seems like there is a breakout pattern formed with resistance at $135.00B and support near $131.00B. A break above $135.00B could clear the path for more gains in BTC, ETH, tron, litecoin, ripple, EOS, ADA, NEO, ICX and other altcoins in the near term.
The post Crypto Market Update: EOS, Bitcoin Cash, Tron (TRX), ADA Price Analysis appeared first on NewsBTC.
* First published on newsbtc.com