Tron (TRX) buyers in control, add 19 percent from last week's close.
Sun Network introduces sidechains expanding Tron's capacity.
They may be feuding and posting sarcastic comments, but Justin Sun says Ethereum collaboration may happen this year. If anything, that is bullish, and once it is official, Tron (TRX) will easily expand above 4 cents.
Tron Price Analysis
Fundamentals
Here's one fact. Vitalik, the resolute and the unyielding founder of Ethereum will lose faith in humanity if Tron's valuation exceeds ETH's, which is at second after Bitcoin. At the same time, Justin Sun has promised to build a monument just in case his platform's valuation spikes, flipping Ethereum to second. That's the kind of rivalry between the two.
While they are competitors which ardent followers, it is now emerging that the two may collaborate this year according to reports. In an interview with Rachel Wolfson's TheCryptoChick, Justin Sun acknowledged that competition is healthy and would ultimately help the cryptocurrency space grow.
"First of all, everybody knows that Tron and Ethereum compete in the dApp [sector], for sure. But I think definitely that this competition will result in a better product – the competition between Ethereum and Tron benefits the whole industry."
Adding that;
"I think that even within this year we will see Tron officially collaborate with Ethereum, and will be something good for the industry."
Perhaps in readiness, the Sun Network, which Justin says is all about interoperability and side-chains, seeks to expand the Tron Network capacity and overall TPS.
My recent @badcrypto interview with @justinsuntron of @Tronfoundation is now live! https://t.co/Zo8GFrhKx1 Listen to what Justin has to say about the USDT-TRX #stablecoin, thoughts on enterprise #blockchain and thoughts on @ethereum

— Rachel Wolfson (@Rachelwolf00) April 6, 2019
Candlestick Arrangement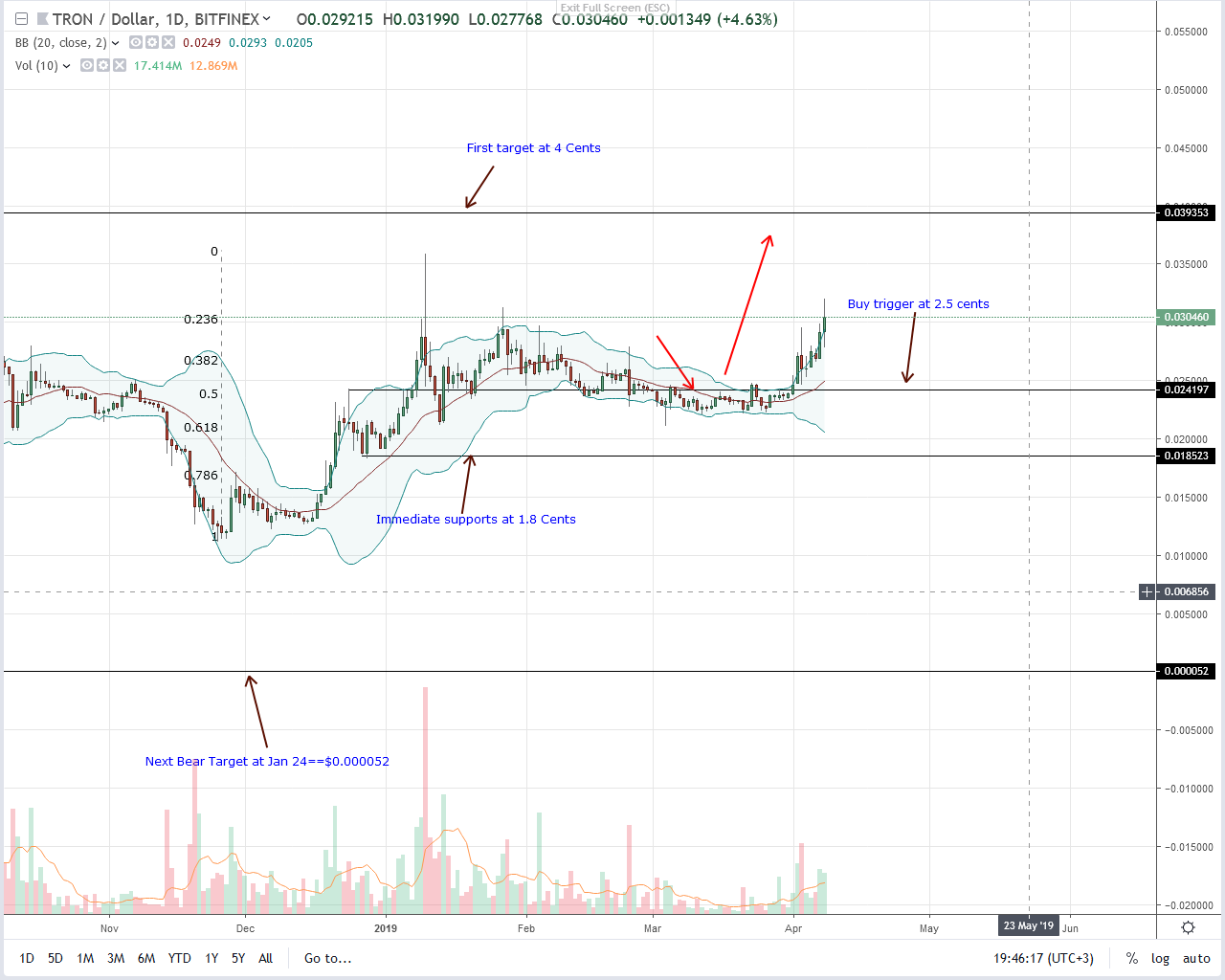 After peaking in mid-Jan 2019, days before the historic BitTorrent ICO, TRX has been in consolidation mode, dropping to as low as 2.1 cents before recovering as Bitcoin inched higher hauling altcoins from Feb pits.
All the same, we note that Tron (TRX) despite plans of the SUN Network and potential collaboration with Ethereum is yet to clear Jan highs and 3.1 cents. As a result, and in line with our last TRX/USD trade plan, risk-off traders should stay in the sideline even though TRX is registering double-digit gains and up 19 percent in the previous week.
Ideally, what we would like is a high-volume break above 3.1 cents or Jan 27 highs confirming the double bar bull reversal pattern of Jan 13-14. Undoubtedly, that will set in motion the next wave of higher highs thrusting prices towards 4 cents, our immediate target.
Technical Indicators
Because of our trade plan and the realization that buyers are yet to clear 3.1 cents, we shall retain a neutral but bullish outlook. Any rally above 3.1 cents must be with high transaction volumes exceeding Feb 4—42 million confirming buyers of Jan 14.
Chart courtesy of Trading View
The post Are Prospects of Tron—Ethereum Merger and Side-chains Supporting TRX Bulls? appeared first on NewsBTC.
* First published on newsbtc.com