Bitcoin prices rally, aim at $6,000
Participation levels shrink but could rise as BTC edge higher
Analysts are bullish, and although some maintain that bears are still in control, a blend of positive fundamental developments as well as favorable candlestick arrangements mean Bitcoin (BTC) bulls are firm. An easy target is $6,000.
Bitcoin Price Analysis
Fundamentals
It's always a tussle between supply and demand. Aside from the hype element which is honestly hard to gauge, it is clear that the market is bottoming. We may even be in the crypto spring and in the early stage of the next bull wave that would take Bitcoin to $100k or more. At least that is what analysts see.
The volume alone should tell you that we're out of the bear market. That's a HUGE indicator. #Bitcoin #cryptocurrency #ethereum

— WolfOfMillions (Crypto) (@WolfOfMillions) April 5, 2019
Earlier, we mentioned how halving of next year would accelerate gains towards $130k or higher. However, what we have is an educated market and tempered investors. After last year's slump, a mix of favorable technical candlestick arrangement, as well as a maturing market and regulators contributing translate to volumes, are thick. With better liquidity and whales in the equation, the market depth is deep, and stories of late 2017 super rally would likely be a one-off event.
To confirm the end of the bear market, we need to break above $6,000. Looks like there is just too much resistance so this could take some time. We could be bouncing between $3k to $5k till at least September. #bitcoin

— A v B (@ArminVanBitcoin) April 2, 2019
Moreover, if we factor in perma-bears who think that even if Bitcoin prices cross $6,000, bears of late 2018 would still be in control, then it is easy to see why the path towards $12k or better yet $100k is full of pumps and uncertainty.
Even so, what would erode all these and pave the way is a bullish announcement by US SEC of their approval of any of the nine Bitcoin ETF or of China allowing exchanges back—which we all know, by their recent stance is ideal but distant.
Candlestick Arrangement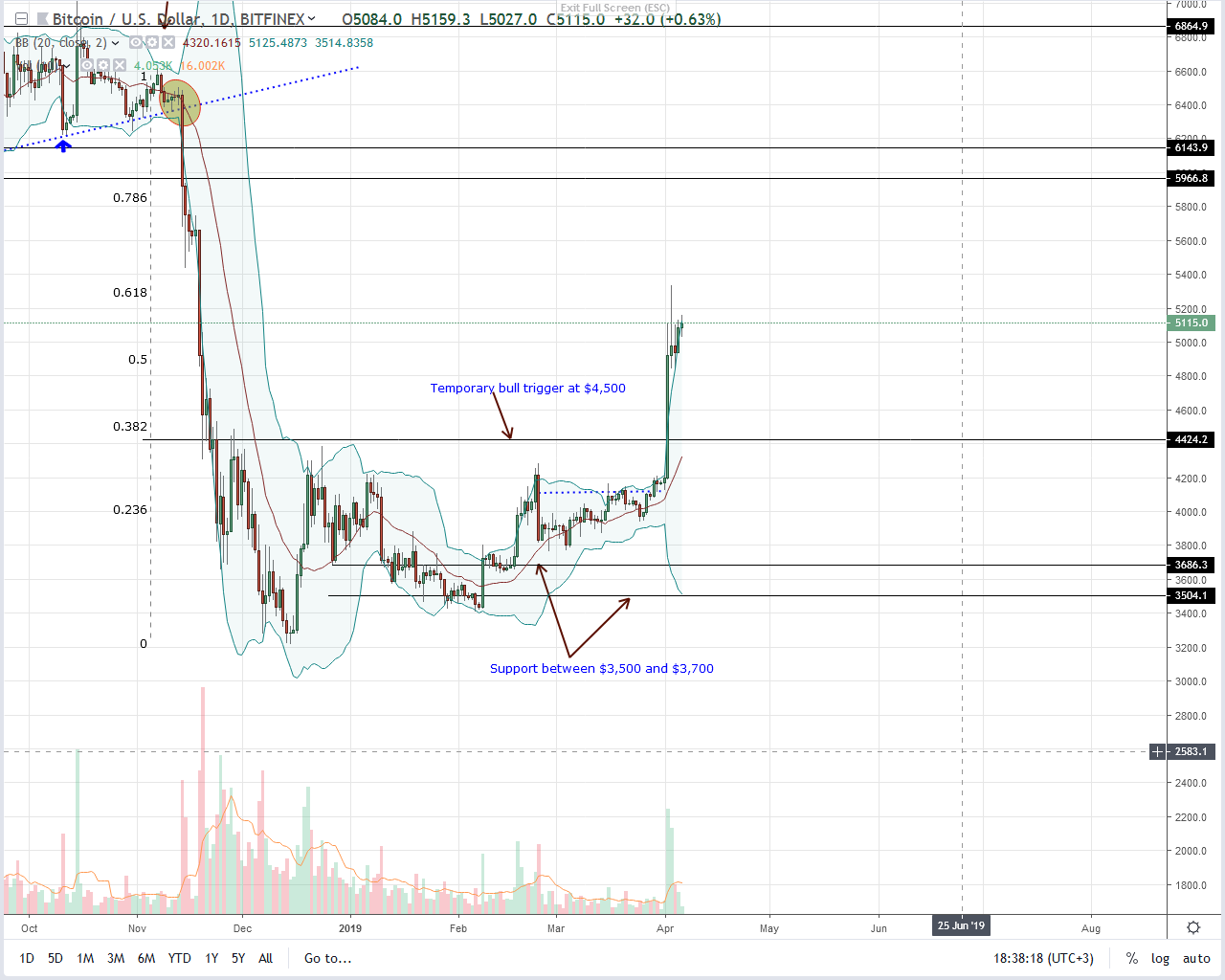 Bitcoin (BTC) bulls are steady and gradually moving towards our ideal targets at $5,800–$6,000. As we mentioned earlier, BTC/USD is trading within a bullish breakout pattern.
Besides, as they are firm above $4,500 and more importantly, above the psychological $5,000, BTC is trending in monthly highs above a critical resistance trend line visible in the weekly chart.
Since last week's bull bar is right and all our trade conditions are true, takers can search for undervaluation in lower time frames ideally above $44,700 assuming there is a pullback with the first target at $6,000. If not and buyers clear $5,200 because of high momentum, takers can enter at market rate with stops at $4,800 as they aim at $6,000.
Technical Indicators
Volumes are shrinking, but we expect participation to tick in days ahead. That's unless of course there is a counter bar with high volumes above 54k reversing gains of Apr 2 and invalidating our bullish outlook. Ideally, up-thrust above $6,000 ought to be accompanied by high volumes above 54 of Apr 2 cementing our bulls and founding the base for $8,000.
Chart courtesy of Trading View
The post Analysts are Skeptical but Bitcoin (BTC) Bulls are at Full Throttle appeared first on NewsBTC.
* First published on newsbtc.com